My dear frined Minesh went to India and shared his story with me via this website. I like real travel blogs.
"I couldn't believe it, I was literally on Indian soil for 2 minutes and I had been robbed"
Well leaving for Hong Kong, I would have to make the now obligatory stop in Bangkok (just cant avoid it) but my 3 hours here were spent in the luxury of the business lounge which gave me the ideal opportunity to eat, drink and surf to my hearts content!
Had a very good flight in to Mumbia, got talking to an American guy (Brian) and an Aussie chick (Sarah). Sarah and Brian as it turned out were staying in the same guesthouse as luck would have it. I was meeting a friend from UK, and she was meeting me at the airport. Finally clearing immigration and customs I was so happy about my first visit to India, that I had to call home and let my mum know that I was finally here, however my jubilation was short lived as some light fingered bugger helped him (or her) self to my mobile. I couldn't believe it, I was literally on Indian soil for 2 minutes and I had been robbed.



After months of safely travelling through notorious countries like Bolivia and Brazil with an incident! Losing the phone wasn't that important, its the 100's of phone numbers I will have to get hold off (some of you can start by emailing yours pls). Brian and Sarahs transfer was waiting for them, but he had lost the car key and had to wait for someone else to come with the spare which took an hour or so and my friend was running late so all 3 of us were getting frustrated by the whole experience, me more so after my phone episode.

My friend arrived and the spare key still hadnt arrived, we managed talk their driver in to dropping us two off first before taking the other two to their guesthouse. By the time we got to the hotel it was 1.30 am and we were all in need for some food and drink. We all meet up in Colaba looking for both, and soon realised that all bar the street food vendors were closed. One of the taxi drivers insisted he knew where we could get food and drink from, but involved him driving us around. It has "Scam" written all over it, but at this point we didnt care we just needed to eat and drink.So he drove us around from one closed restaurant to another, stopping frequently to ask people on the street where we could go. One guy offered to get beer for us, he saw Brian in the front seat and the dollar signs in eyes lit up and he said to Brian 2000 rups ( 40us$) for 3 beers, and when he heard me laughing in the back he soon realised he wasnt going to get away with it, 300 rups later, we drinking cold Kingfisher Beer out of conspicuous black plastic bag driving around Mumbai in search of food.. not forth coming, we find ourselves back at Colaba! A quick wonder around the impressive Taj Hotel, and The Gate of India and that was the end of a night. It was a good introduction to India.

Colaba Mumbai - Source Jimmi - S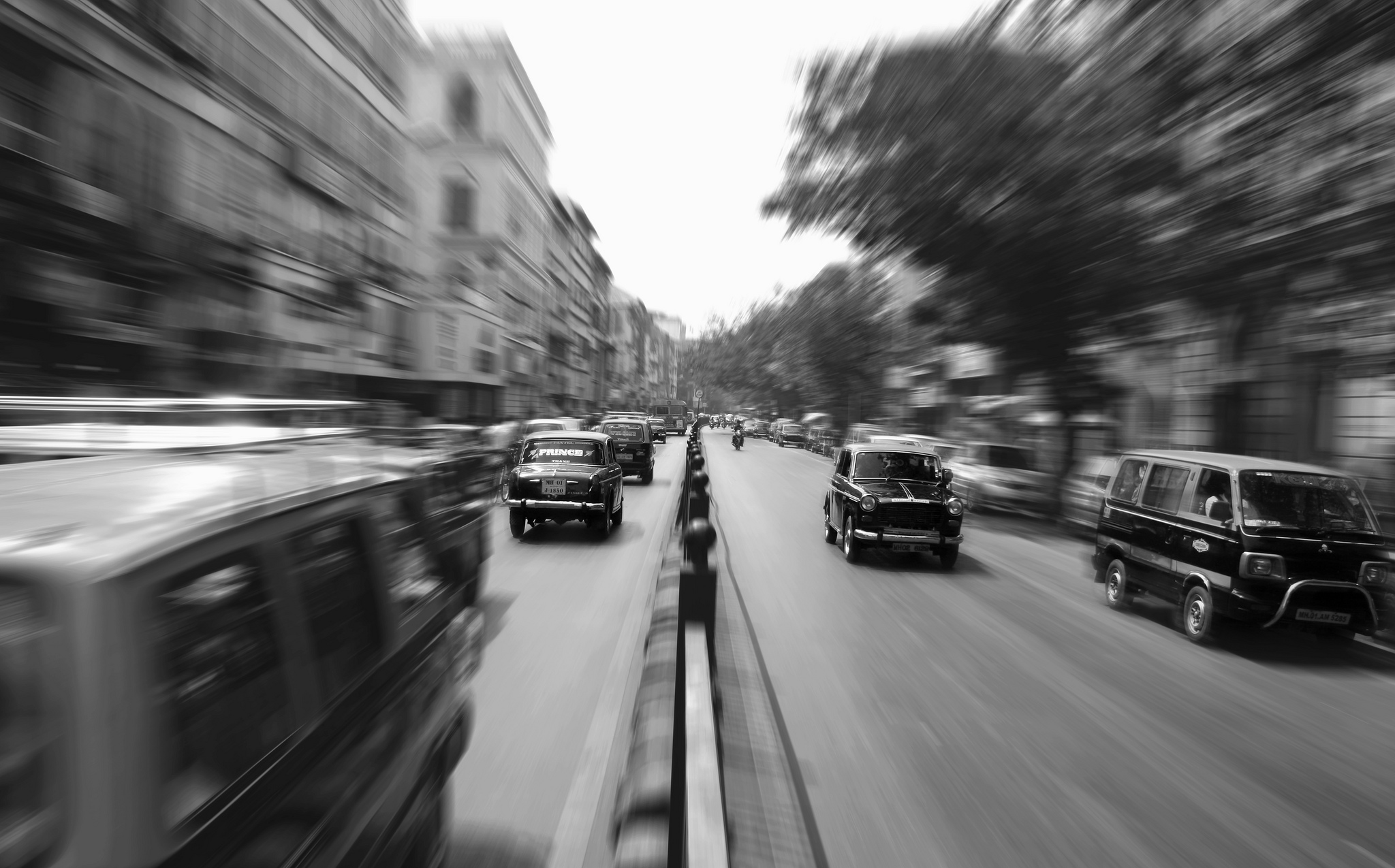 Following day started late afternoon, the previous night and the 3 hour time difference between HK and Mumbai had taken its toll.Took a stroll (cant walk too fast in 30+ temperatures) along Marine Drive finally catching with the others in Colaba.
I had arranged to meet a guy (pranny) who I had met in New Zealand (Mumbai raised, now living in UK) and thought it would be a good opportunity to get some local insight on what to do and where. Also, my friend has a local friend (Jessy) who manages national and International Asian artist and he had invited us to one of his local haunts.

Soon realised, that my few days in Mumabi would be fun.

While Pranny was waiting for me at the famous Leopolds, he got taking to another british asian guy (neil) who was on his travels too, as the night went on and others arrived at Leopolds, the foundation of a new travelling group was taking please. Spent most afternoons, just wandering around the crazy streets of Mumbai, taking in some sights such as Victoria Terminal and The Oval, where there was probably about 40 games of cricket simultaneously going on.
The evenings would be spent out at one of Mumbais premier night spots. Last night (Monday 23rd) we were invited to an album launch for some local artist (mukul) for the launch of his new album 'Stray', this was one of jessy's artists that he manages. We get to a rather cool club called Rain, and it was all glitz and glam, the guestlist had the who's who of mumbai and a name I recognised Sunil Datta - an old school bollywood star and a few more that my friend had heard of. We were rubbing sholders with stars!. There were hot hot chicks everywhere, and free drinks... I think this is the closest you can get to heaven with out ever getting there. Like everything in Mumbai it was all over by 1.30am and we tried our hardest to find some sort of after party but it didnt happen. Today me and Neil are waiting for our 2 hour delayed train, should be interesting as we had a connecting train 90 minutes after our original was suppose to arrive in Ahmadabad., oh well!

Editors Comment "The world sould be a better place if everyone went to bed well before 1.30am. Just noting that it is macho in Spain to stay out late but is it! Going to sleep in the afternoon so you can brag about how late you party.."