Le Méridien Bangkok - Contemporary and Stylish Hotel
Featured
Hot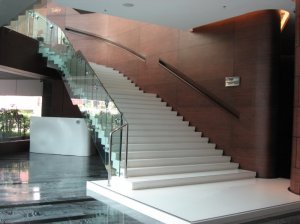 The service as unquestionable as the style Le Meridien has it all , almost. Only outdone by other hotels claiming rooftop dining and drinking or larger pools if these things don't bother you then you should perhaps try Meridien.
Check all the major online booking sites for the best prices of this hotel with 1 click !
The standard rooms feature king sized beds with latest mattresses ceiling shower and screens allowing you to catch up on your tv while you soak away Bangkok. The blinds come in 2 kinds, a day and night blind- to allow for excellent light control all electronic so you don't need to move from that mattress.
Its the music and smell that you will remember however as you head to your room this hotel is just feeling new. Opposite Patpong can be annoying though not more and you will find the night market quite fun. The area does lack some good regular drinking holes and other immediate interests  but sukhumvit is close by. Consider getting to the river to get to the old town as the traffic is thick between the two in this sense the hotel could be considered well located also for the CBD of Bangkok.
Map
User reviews
I really enjoyed returning to the Meridien. I was interested in visiting the Dusit Thani close by but it was another 25% more expensive. We felt very relaxed while enjoying the high tech rooms with their electronic blinds skyscraper views and flat screens while letting Bangkok wash off from the ceiling shower or large bathtubs.
Most striking was the comfort of the bedding and mattress and king size bed.
The lobby always placed me in a great frame of mind with its smell and design. The pool while a little small is a nice space we didn't get to try the Spa unfortunately. We did enjoy the bamboo lounge a fantastic cocktail bar and restaurant.

Zen - As a designer I know they have gone into great detail while designing this hotel from the space they have, they have made a very luxuriating experience. It is contemporary and should be firmly on the flashpackers list of places to stay.

Outside you are almost opposite the Patpong area, and walking through this brings you to MRT but take a cool taxi instead the boys will order you one outside. You are well located for business and tourism here. Eat in Ruen Urai while you stay here http://landed.at/restaurant-reviews/718-ruen-urai-rose-hotel-
Review
Good Points
Smell, luxury, value, service, location..
Bad Points
Small pool but sufficient unless you really want to swim lots. You can swim and get exercise in this one however.
Do You Recommend
Was this review helpful to you?