The Ivy House Pub Inn Amersham or Chalfont St Giles
Featured
Hot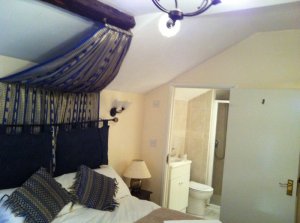 Classification
Getting there
Find the A413, its close to Little Chalfont, Chalfont St Giles and Amersham this place is for those with a car really.
This place represents great value and actually feels really quite nice and cosy. It borders on Luxury in my Oriental room which has a tody clean ensuite hidden wardrobe, tea and coffee facilities and a lovely double bed. It is part of a wonderful pub the Ivy House set on a road that isn't for the noise sensitive but really ok IMO. The views are very very good and there are many trails around here to be found to walk in.
Close by you will find the home of Liam Gallagher and others
I found their place through late rooms but I wanted to add it here so that it could be found more easily as there are not many good value bed and breakfasts near Amersham. Its not offering breakfast as far as I know so be warned.
Here is the official description
The Ivy House is a delightful Inn set in rural surroundings within the Chilterns.




Its exposed beams and open fireplaces offer the visitors a warm & relaxed atmosphere in which to enjoy great food and Fuller's award winning ales.


The ideal place to to get away from it all and stay in one of our 5 recently refurbished, first floor bedrooms. With easy access to all the major motorways and close to many tourist attractions.

Map
Editor review
I couldn't fault it ! I was in a jam and needed a room here and got lucky. Its not bandb basis which for me is good. Really enjoyed the comfort of the bed and TV.
What a find - A great place to stay in little chalfont.
Review
Good Points
Decent sized rooms
Tea Coffee and bottled water in rooms.
Great temperature
Great shower with toiletries, big bath towels, ensuite for my room.
Above a brilliant pub
Excellent restaurant
FREE WIFI
Not B&B basis (I like that)
Beautiful view from the oriental room.

Bad Points
Maybe it isn't in the heart of the town or village you need but for most not an issue. This is pretty good location to cover Amersham Chalfont St Giles and Little Chalfont.
There is some road noise but the road is calm at night - no problem at all for me.
Not ideal if you needed to work but I'm sure you could use the restaurant or pub for this.

Do You Recommend
Was this review helpful to you?
User reviews
As the staff are really friendly I didn't want to leave a negative thing about the hairs.
Review
Good Points
Good comfortable bed tv worked fine.
Pub is excellent. Really nice food and decent prices.
Ok price for a couple. We paid 85 pounds.
Really friendly staff.
Plenty of parking in a nice country setting.
Really well located for Chalfont St Giles Amersham and Little Chalfont.
Bad Points
We found some hairs and the sheets looked clean but didn't quite have that new smell. Almost like they had some kind of eco clean.
The hairs are not something that you want to find though and that needs looking at. Maybe it was just a bad day.
In the same vain I want the bed sheet to go all the way to the back of the mattress and cover the mattress. Of course the pillows cover this so your head isnt against a mattress.

Do You Recommend
Was this review helpful to you?