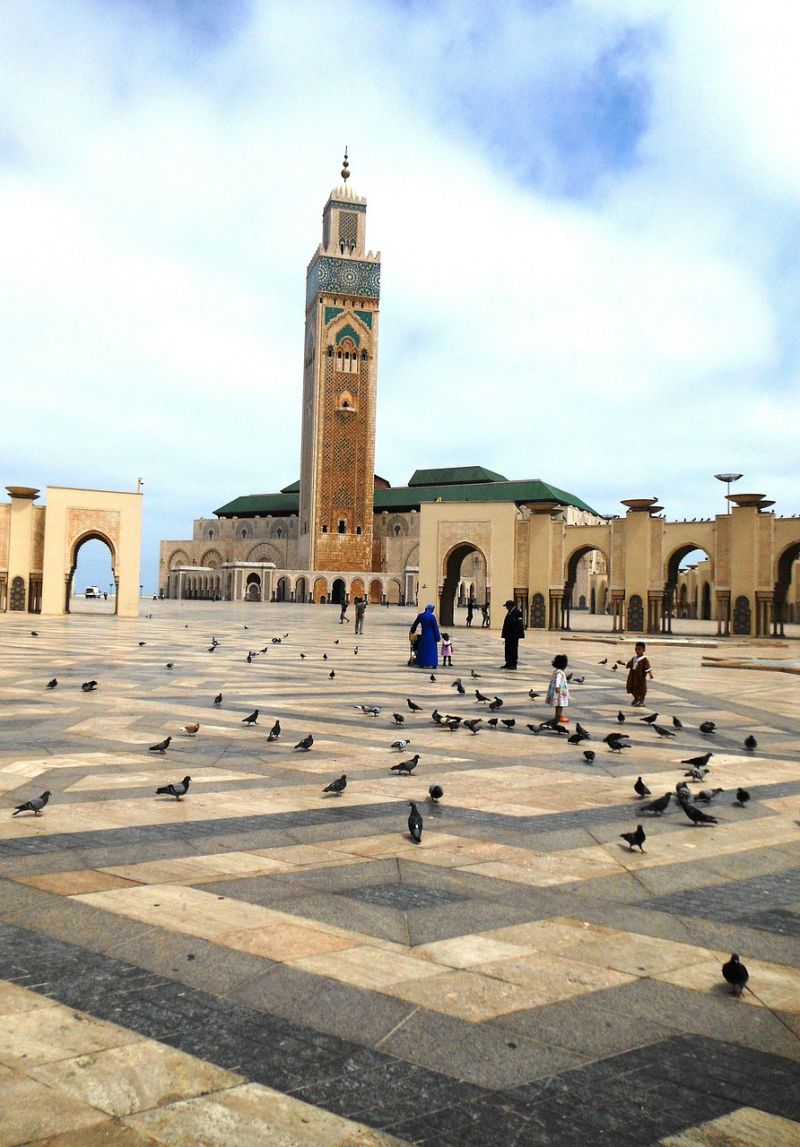 Morocco Things to do :

Shopping Check out the typical souks in Fes for some authentic buys. This medina is a UNESCO world heritage site.

Trekking The atlas mountains provide the highest point in North Africa the Jebel Toubkal is the highest at 4167m. Tours for trekking up this giant start from the Berber village of Imlil, right in the foot of the mountain.
The Atlas mountains also allow white water rafting experiences.

Try a Camel Trek in the Sahara Desert or Mountain Biking through this beautiful land.
Watersports include Surfing and Swimming places to check out include Essaouira, Agadir, Oualidia and El Jadida.
But no place is probably more famous than Casablanca, an eternal city thanks to Rick from the 1940s movie of the same name.
Casablanca might be an Art Deco city with lots of Moorish architecture, but Morocco is so much more, and very Westernized.
Marrakesh is unique as well, where you'll find eclectic nightlife including casinos (you'll find these in Tangier and Agadir too), but also the Djemaa el Fna full of acrobats, snake charmers, and street performers. One must in this city is a trip to the Jardin Majorelle, its stunning Botanical Garden. Keep your haggling skills sharp, you'll need it at Marrakesh's Souq.
Tangier is more of a Bohemian kind of place, while Fez is believed to be the longest inhabited medieval city in the Islamic World--thus earning it a UNESCO designation.
It isn't all history in Morocco, adventure seekers couldn't ask for a more wonderful destination. True adrenaline junkies try to tackle Jebel Toubkal, the highest peak in Morocco along the Altas Mountains at 13,667 feet.
If you'd rather stay closer to sea level, there's no place better than the beaches along the Altanic Coast at Agadir. There's more water to be found at the Cascades d'Ouzoud, located between the cities of Fez and Marrakesh.
Don't worry about getting around from one city to another--except if you're driving through the mountains during winter when many roads are impassable. In many towns there are many buses and taxis to get you where you want to go.
One good choice for long distances is Morocco's rail service. It's quite affordable offering service from Casablanca to Tangier, Fez, Marrakesh, and the capital city of Rabat.
You will have to pay a bit more for an air-conditioned coach, which may be needed mainly in the summer months from November to March. It can get quite chilly during the winter, and if you're up in the mountain regions. Mostly you'll find the southwest Trade Winds give much of Morocco's 710,000 square kilometers a true Mediterranean feel.
You will need to pay attention to some precautions here. Drink bottled water, make sure your meat & fish are fully cooked, and cook or peel your fruits & veg. Also vaccinations against Hepititis A & B, Typhoid, Diptheria, and Tuberculosis are recommended.
It's hard to pin down this North African country that's got everything from sandy beaches to jagged mountain peaks--the only thing you can do is come here to experience it for yourself.