Cheap Hostels and Apartments
Hostels Apartment Search Tool
We bring you hostels and budget accomodation for your viewing and searching convenience. Clicking through you can contact them via email or will take you to their website. Search for the particular city or hostel that you are interested in. You can further check reviews of hostels in this way.
Details

Category: Cheap Hostels and Apartments
Archipelago Hostel Old Town Stockholm is the ultimate place to stay during your visit in Stockholm.

Most of the historical sites and attraction are within walking distance like Royal Palace, the Nobel Museum, the City Hall and the ferry to Djurgården/Skansen.

Archipelago Hostel at Stora Nygatan 38 is located in the medieval part of Stockholm, the Old Town in a building from 1750.

We have a capacity of 43 beds and can offer accommodation from single - twin -, triple,-and four bedded rooms.

Our dormitory is either for 4 or 6 people and very popular for people backpacking.

Our twin rooms and the three beds rooms are not provided with bunk beds

All beds are supplied with a duvet and a pillow. Bed linen and towels are available at the reception for hire or alternatively you can bring your own. Please note that either way bed linen must be used.
Details

Category: Cheap Hostels and Apartments
Welcome to New Star Hotel Hanoi - provides a felling of great!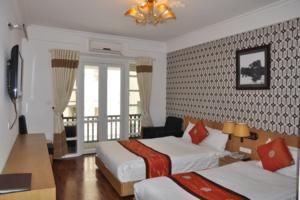 Details

Category: Cheap Hostels and Apartments
1 minute from Place D'Jeema el Fna in the centre of  the souqs, Riad Layla Rouge is the first edible riad for adventure hungry travellers in Marrakech.
The free tea and cake may stop you from trying to bite into the walls – or maybe not... Have a taste…