Mozambique is in the southeast of Africa.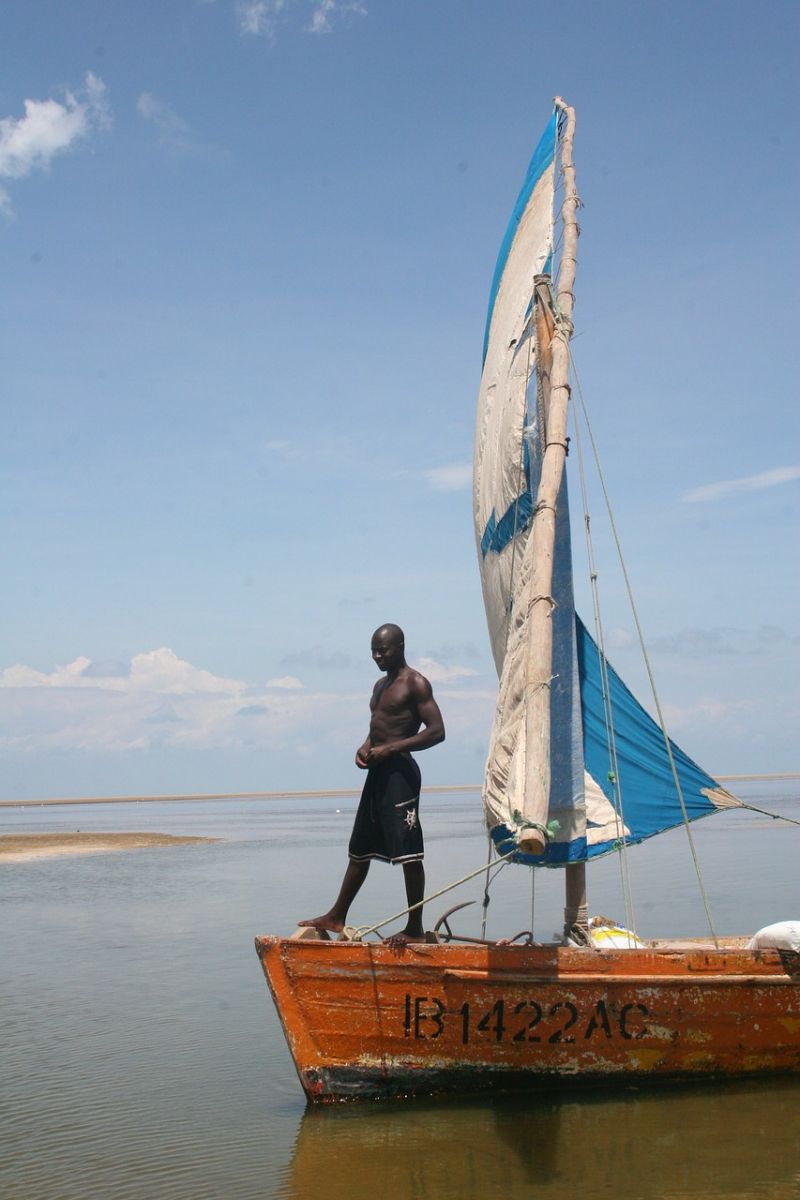 If you come from a Western country you don't come to Africa expecting all the creature comforts you left back home. You come for the exotic, the smells, the adventures, the experiences if you will. And countries like Mozambique offer it all, and then some. Often surprising you with its hidden gems.
One word of caution if you've decided that this is where you want to be--landmines. But don't let these buggers turn you off to what could be the trip of a lifetime. Just bear in mind that traveling off the beaten path isn't a good idea, nor is driving anywhere at night. It is best to hire a car & driver, or stick to public transportation (buses, taxis) in major towns such as the captial city of Maputo.
There isn't all that much rail service in Mozamabique, mainly from Beira to Tete, and Maputo to Goba. Trains do arrive into Mozambique from neighboring Zimbabwe (just one of six countries bordering it). All trains offer 3 classes, none of which include sleeper or dining car, or air-conditioning.
You won't need to go far, however, if you've decided to just lounge along the 1550 miles of beaches, however. Mozambique's lagoons and coral reefs make a beachside vacation that you won't soon forget--especially if you're diving or snorkeling in this part of the Indian Ocean.
Inhaca Island is a good place to see coral reefs, and you'll find a Marine Biology Museum and lighthouse too. The Bazaruto Archipelago is the best with five tropical islands, coral reefs, pristine beaches, and is home to manatees (called dugong here).
Mozambique also offers safaris if you're so inclined to see buffalo, hippos, elephants, and zebras. The Maputo Elephant Park is a good place to see crocs, flamingos, and antelope too. Birdwatchers will appreciate the famous Gorongosa National Park, as will anyone looking for a true spectacular safari.
The best time to do a safari in Mozambique is from April to October when the region is just warm and dry. From October to March Mozambique is hot & wet thanks to its rainy season. If its too hot you can always head inland where the weather is a tad cooler--but the higher you go the more it rains.
Shopping is also an adventure. Here in Mozambique you'll find all sorts of local handicrafts like beadwork, wood carving, textiles, masks, and leather goods.
Eating can be exciting as well--try Piri piri, a dish of Zambesi chicken served with a chile sauce, or Matapa made with ground peanuts and cassava leaves served with rice.
Another word of caution--it is best that all meat & fish be fully cooked, try to avoid dairy products, cook and peel veg & fruit, and make sure all your water is boiled or bottled--even to brush your teeth.
You should also make sure you've taken precautions against Yellow Fever (if arriving from any infected area), Typhoid, Tetanus, Hepititis A & B, Tuberculosis, and Malaria.
You'll also need a visa before arrival, a passport, and return ticket. No, authorities won't let you stay here forever--even if you beg in Portuguese, the country's official language.
Oh well, you'll just have to enjoy Mozambique for all its worth while you can.