Slovenia Travel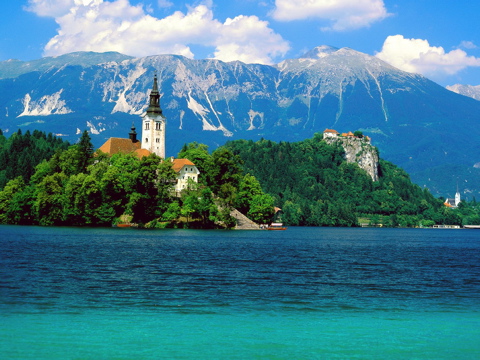 Flag of Slovenia
🇸🇮
It's a bit of a cool undiscovered place is Slovenia! Mounds not quite hills covered entirely in the greenest grass like mr men hills, emerald green lakes and some extreme sports make this an interesting destination at great value for money this will entrentch it in the backpackers destination guides for Europe.
Location Map
Things to do in Slovenia:
Even though Slovenia lies in South Central Europe it maintains a very Alpine feel. Perhaps the fact that Slovenia borders Austria and Italy along the Alps has something to do with it.
In addition to having such wonderful scenic regions within this famous mountain range, Slovenia is a bustling country with a young and vibrant student population in its capital city of Ljubljana, but also a place steeped in tradition and history.
See what Tours we have in Slovenia
Depending on what you're looking to do in Slovenia would depend on where to go, and when. The country enjoys a Mediterranean climate along its coastal region, that borders the Adriatic Sea, so if you're looking for fun in the sun--you know to come here.
For those looking to hit the slopes, then the Alps are the clear choice. Skiing in the region of Bled and Kranjska Gora brings fans of the winter sport from all over Europe, and beyond.
It's OK if you don't ski, the Alps are famous for hot air ballooning and paragliding; but best to save that for the warmer months.
While the Alps have been here in Slovenia's landscape for eons, viticulture has only been going on a mere 2,000 years. Wine lovers will certainly appreciate following along the Wine Trails of Goriska Brda and Vipava Valley.
Wine making certainly has gone on longer than some of the Empires that lorded over the area. Slovenia has seen the likes of the Franks and Carolingians, Bavarian and the Habsburg Empire; even the Holy Roman Empire--which wasn't the rascally Romans from Julius Caesar's day. No, the Holy Roman Empire ruled over the area in the days of Charlemagne and other German Kings.
This means Slovenia's history is long, and some of the best historical sites are seen in its capital city, like the Franciscan Church of the Annunciation and its Cathedral built in 1708.
One fun activity, besides the theater, operas, and orchestra events, is dragon hunting. You're not going to slay real dragons, but the fun is in trying to find as many as you can on its bridges, buildings, and all sorts of other locales.
Hunting for dragons can make you hungry, so try the potica, a tasty "cake" made with raisins and cinnamon. Wash it down with some blueberry brandy with no worries, since food & drinks are quite safe to eat.
The worst you have to worry about are tick-illnesses, which means just be a bit cautious while out hiking. One place that's a must-see, whether you hike or drive to get there, is the Postojna Cave--big enough to hold 10,000 people inside its "Hall".
Good thing Slovenia is known for its thermal and mineral springs, so spas are found all over the place to rest up tired muscles after enjoying the slopes and scenery.
Shopping is a past-time just as good as any; and the best gifts to bring home are crystal pieces, wines, "beehive art" (made from real beehives), and bobbin lace. The detail put into the handmade lace here is extraordinary in its detail.
Whatever the reason for you wanting to come to Slovenia you can't go wrong--and you'll find so much more than you ever imagined along the way.
More reading online:
A long travel blog starting in Austria passing Through Slovenia and ending in Croatia.