If you think this webpage on Australia looks different than anything you've seen so far here at Landed.at, it's because Australia isn't like anything you've ever seen before.
It is an island, a country, and its very own continent. And if you think you're going to see it all in one trip, you'd have to make it one continuous vacation for the rest of your life. There's no way to see it all, but if you know what you're looking for, it'll make it much easier to figure where you want to go.
Suppose you're looking for the best diving sites? Or, what if you're looking for the ultimate Outback adventure? Perhaps wines are your thing? Maybe you want to dive with Great Whites? Whatever you can possibly think of, you can do it here in Australia, and then some.
Before going off to explore the eight regions of Australia, a few facts you'll need to know. You need a passport, and sometimes a visa. The rules often change, so it's best to check with the consulate beforehand.
Getting around can be both easy and tricky, depending upon what you're trying to do. Long distances between some cities (2,418 miles between Sydney and Perth) make getting from one point to another not so simple. Flying cuts the time down, and with air passes available from Qantas (Australia's Official Airline) and Virgin Australia make it more affordable. There is some amazing stuff inbetween and it may be that you take a campervan or winebago across the outback.
Long-distance trains (one is 3 days and 3 nights) can make a beautiful way to see the countryside. Rail passes are also available in 2-classes of service for coast to coast travel.
Within towns and cities there are taxis, Trams, and other public transportation. In some areas consider renting a bicycle to get around. Sydney for example has a ferry from Circular Quay to Manly beach.
Traveling and eating go hand-in-hand, and you won't find fresher seafood than in Australia. The Sydney Rock Oysters are legendary, or just noshing on macadamia nuts is a treat.
Australian Wines
Australian wines are starting to finally get the respect they deserve, and the wineries in South Australia are just the place to try them. Beer is also big here--as are the drinks themselves. Try a "middy", 285ml of brew; or as its called in Victoria--a "pot".
These are but a few things you'll need to know when out on the town. Australia's nightlife has everything for everybody, from trendy bars to superclubs, Opera and Orchestra, pubs and rock concerts, to bars and restaurants. Its a very modern world here maybe because they are so far away from other cultures they drive their own forwards.
So what if things are more tame in smaller towns and villages, you'll still be welcome at a local bar or pub as its called-- Australians are a friendly bunch. All the better to hear those sexy Aussie accents, don't you think? And Aussie Slang isn't like anything you've ever heard before, either. Yeah, sure, you've probably know that a "sheila" is a term for a woman, and "shrimp on the barbie" is shrimp cooked on a barbeque. But, did you know that Bush tucker means native Outback food? Or, how about a Bikkie is a biscuit? No?
It's all right--here are a few other terms to get you by. To say "I'll be stuffed" doesn't mean you're going to eat too much, it's slang to say you're surprised. And a "boozer" isn't someone who's had too much to drink, it's a pub. A "milk bar" isn't a place to buy dairy products, it's a takeaway joint.
See, you haven't even gotten to the Land Down Under, and already you're talking like you've lived here your whole life.
Even if you don't speak the official English language (or some variation of it considering Aussie slang), you can get by with Italian, Greek, Chinese, and German for that matter.
Australian Weather
As diverse as the country is itself in terms of language and landscape, so is its weather. Mainly divided into two zones, just about anything north of the Tropic of Capricorn is tropical; south is temperate.
Just because you'll find rainforests and desert in Australia doesn't mean you won't find winter sports, as it snows up in the mountains in the southeastern region. North and central Australia is marked by warm days and cool nights in the winter.
Beach lovers will certainly fall in love with the 37,119 miles of coastline, flanked in part by the Great Barrier Reef. Which is probably the world's most coveted diving site--and brings us to:
Queensland
Diving along the 1200 mile Great Barrier Reef could be considered the primo thing to do here in Queensland, but you'll also find the Australian Zoo, the Great Dividing Range (full of outlooks and waterfalls), sugarcane fields, and the cities of Brisbane and Cairns. Queensland is known as the Sunshine State, full of theme parks and where you'll find the famous Gold Coast--and six World Heritage Sites.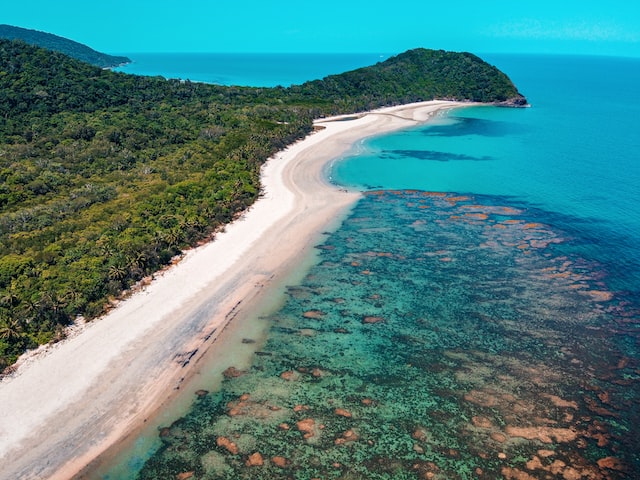 New South Wales (NSW)
New South Wales, often just abbreviated as NSW is where you'll find Sydney. Not much else is more famous than its Opera House, but with 780 National Parks the scenery should be. But, if all you do is hang out in Sydney you should see the Contemporary Art Museum, Jewish Museum, Sydney Museum, and a myriad of other art galleries.
Tasmania
Famous for being home to the Tasmanian Devil, the island of Tasmania (and 334 outter islands) is also known for its wines and seafood. Hobart, the island's capital, is a charming little city with a lively nightlife. Don't drink too much, otherwise you'll miss out on all the outdoor recreation (hiking, swimming and other watersports).
Australia Captial Territory
Totally surrounded by NSW, the Australia Captial Territory is where you've got the Australian captial of Canberra. It might be small, but within it you'll find mountains and National Parks, bike paths, and farms.
As the capital of the country, Canberra offers a bunch of museums that include the National Library, National Museum, National Botanical Gardens, National Portrait Gallery, and the Academy of Science.
Even with all that, you should make sure you come to see the Blundells' Cottage, one of the last of the original European Settlers' houses.
Western Australia
Not much else on Earth is as untamed as the Australian Outback. Found right here in Western Australia, you can either 4x4 ride through or take a camel trek. Either way, you can't go wrong--but if you can do the 600km Gibbs River Road, a true Outback adventure around Kimberly, go for it. This rugged area is where you'll find the city of Perth, as well as the white beaches of the Coral Coast. While the eastern part of Australia has the Great Barrier Reef, Western Australia has swimming with Whale Sharks.
Victoria
Located on the southeast tip of the continent, Victoria is full of antique shops, chances to swim with dolphins, and Phillip Island where you can see a fur seal colony and koalas. You don't get more Aussie than a koala--ok, maybe a kangaroo; but you never know what you're going to find if you travel along the Great Ocean Road.
Northern Territory
Up here in the Northern Territory is a land rich in the Aboriginal culture. It's also where you'll find Ayers Rock (known as Uluru), another one of Australia's most famous landmarks at a whopping 348 meters jutting up from the landscape. The Northern Territory is great for kayaking, fishing, birdwatching, and just about any other outdoor activity you can think of, including camel rides through the desert. If you really want to see the natural beauty of the Northern Territory, take a helicopter ride.
South Australia
If all you do in South Australia is travel the 25km of the Riesling Trail, you can walk away truly happy. It's all about the viticulture here in the south central region of the country, full of vineyards and wineries.
Of course, if you want more there's always the Flinders Ranges--part of the Outback with National Parks and mountains. Adelaide is here, as well as Kangaroo Island, and the Limestone Coast that's known for all sorts of watersports.
Australia might be one of the world's most adventurous destinations, but it has also given the world some of the biggest names in entertainment. Actresses Nicole Kidman and Cate Blanchett are Aussie born; while singer Olivia Newton-John, and rock band AC/DC are proud to be Australian. And forever beautiful as the country is itself, it has given the world one of the most stunning supermodels, Elle MacPherson.
Other Australian Heroes
Perhaps no Australian has ever been (or would ever be) as famous as Crocodile Hunter, Steve Irwin. His wildlife and conservation efforts spanned beyond just the Australian kangaroos, koalas and crocodiles--but to all over the world. His conservation efforts have prompted the Sea Shepherd to have a ship named for him, and a locomotive with Pacific National bears his name, too.
So beloved to Australia (and the world beyond) has made his television program, The Crocodile Hunter, been seen in over 130 countries--making everyone feel a little bit Australian themselves. Crikey!
Image Credits