New Zealand Adventure Travel and Backpacking
Flag of New Zealand 🇳🇿
It's harder to say what's more famous about New Zealand, the famous Maori Haka "war dance" of the All Blacks, or as the dramatic setting to the legendary films of the Lord of the Rings trilogy. However you choose to think of the "Land of the Long White Cloud", to say you'll love it is an understatement.
Location Map
New Zealand is made of two main islands, known as the Northern and Southern Islands. The Northern Island is home to its capital city of Wellington, and Mt. Cook--the highest point in the country at 12,316 feet. This island is where you'll find the city of Auckland; that has an awesome Sky Tower, harbour, and Winter Garden.
Auckland At Night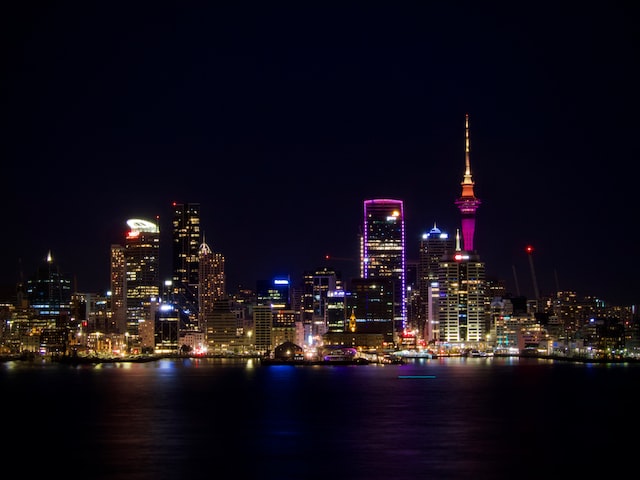 image credit
The Southern Island is less populated, but more dramatic. The Milford Track, a 33-mile hiking route through the Fiordland National Park. And tramping (as hiking's called here) isn't the only sporty thing to do. Oh no, you've got kayaking, cycling, golfing, and fishing.
Milford Sound is here, a glacier fjord that's one of the most beauiful places not just in New Zealand, but all over the world.
Charming as that is, New Zealand is full of Maori culture. So buy yourselves some Maori crafts--or better yet an All Blacks jersey. It'll help put you in the mood while practicing your Haka.
New Zealand might be a relatively safe country, but it is "seismically active". That's just a nice way to say its subject to both earthquakes and volcanoes.
Volcanos await you at the Tongariro National Park, three of them to be exact. This park has some 300 caves to explore, grottos to relax in, and blackwater rafting if you want an adrenaline rush.
This is one rugged country, and sports are no exeption. If you want something even more heart pumping than bungee jumping, try bridge swigging. Oh, this is where you swing over a gorge. Heli-skiing is big around here too, as is whitewater rafting, caving, jet boating, and sky diving.
Anyone wanting something more, ah, sedate, should try the wine tastings (they make great wines here on top of everything else), or just chilling out at one of the country's local pubs or restaurants.
Anytime is the right time to come to New Zealand, but it can get quite cold during the winter months. Which, by the way, is the opposite of the northern hemisphere. Use this time to try glacier skiing or glacier walking.
Rather have it warm? Head to North Island, that's got a subtropical climate. But, it has been said that you could experience all four of New Zealand's seasons all in one day.
What you won't do, is see all of New Zealand all in one day. You might not even get to do it all over the course of one lifetime. So wonderful is New Zealand, that if you had to really "endure" a Haka--it would be so worth it.
Written by:

Administrator

Category: New Zealand
Hits: 1762
If you're thinking of heading to New Zealand's North Island, we've got you covered. Check out these highlights and make the most of your NZ adventure!
Written by:

Minesh

Category: New Zealand
Hits: 1794
Kiaora possums

Would you believe its nearly 6 weeks in NZ, and its time to move on to Australia.. So what have I been up to for the past 6 weeks?

Spent the first few days dosing in and around Auckland, visiting some of the suburbs around Auckland.. and of course figuring out what to do with my time in NZ. I decided to join Kiwi Experience for the South Island, and to do North Island by car (Bustermobile in the pics I sent out) with some dudes I met in Rio. Left Auckland and headed up to the Northlands area ?bay of islands, cape reinga etc. but the weather wasn't on our side and so instead of taking a boat trip to the islands like we wanted to, we ended up loafing around Pahia. Carried on driving up north to the most northern point in NZ and picked up a Spanish hitchhiker along the way back down. Spent a couple of days driving back to Auckland via the west coast of the northern tip and stopping at random places as and when we felt like it.