4 minutes reading time
(719 words)
Follow Your Belly Across Thailand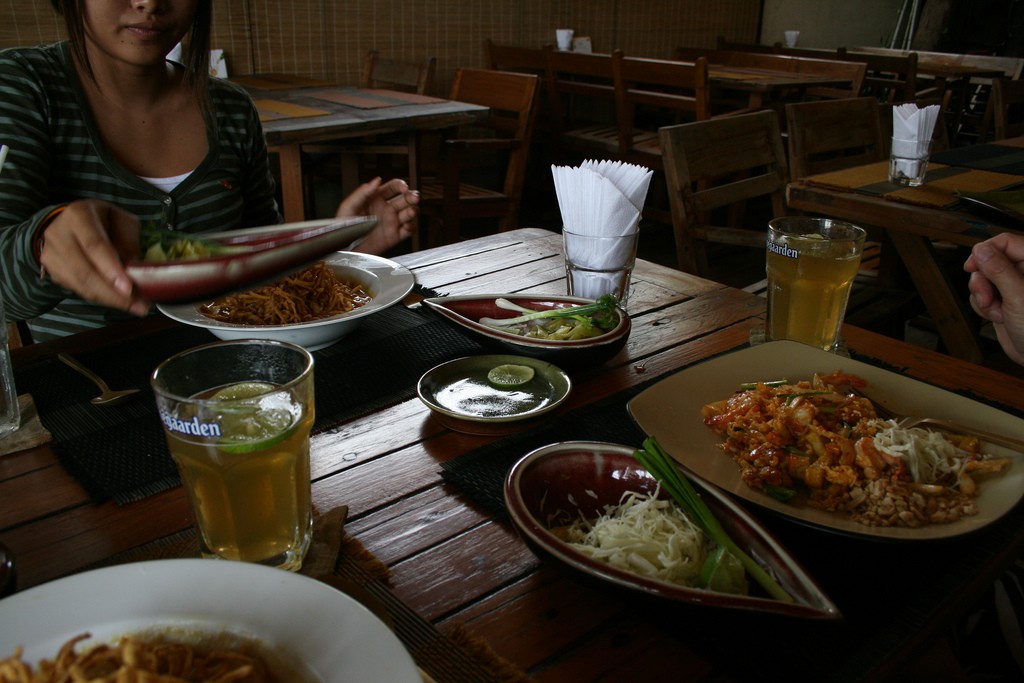 We all have our tastes and preferences when it comes to food. Some like it hot, others like it sweet and sour, a lot of us go either way, but we all have our favorites. Imagine if all of us were standing in front of the map of the world and had to choose one country to handle all of our dietary needs - which country would you choose.
For me, the answer is Thailand. Seriously, no other country comes even close to matching all the culinary delights Thai cuisine has spawned and perfected over the centuries. I could wax poetic for hours on end about the tingling sensations on my palates whenever I immerse myself into authentic Thai foods, but I get the sense that you would much rather read about where to go and what to eat. Without further ado, let's visit Thailand in all its splendor of flavors…
Bangkok
Where else to start but in the city host to the highest ranked restaurant in all of Asia?! Yes, the globally renowned Nahm with its single minded focus on traditional Thai food is Bangkok's greatest culinary draw, but for a lot of us unable to procure a seat at the table there are still plenty of other delicious options available.
Just take a walk down the street and you're likely to chance upon a dingy establishment or two broadcasting a symphony of aromas. Bangkok has a vibrant street food scene, filled with noodle soups, skewered meats, various seafood delights, fresh fruits… Ugh, just the thought of it makes me itch for a revisit. In case your palates (or your sense of hygiene) are too refined for street food, fine dining options are just as exquisite and popular. From hard core traditional to ultra-modern, you will never be short of options for a meal t remember.
Don't miss: Boat Noodles
Even though thai boat noodles are easily found on menus around the world, they are rarely done right. In Bangkok they are literally everywhere (there's even a Boat  Noodle Street), and the outburst of flavor you will experience at the very first bite will leave you both paralyzed and ecstatic.
Chiang Mai
Let's head up north to the unofficial "culture capital" of Thailand, where the traditional Thai cuisine intersects with influences from Burma and China. Compared to the general conception of Thai food, Chiang Mai cuisine falls on the milder side of things, even though it's still rich with spices and layers of flavor.
Again, you don't need to look any further than what you see on the streets (although a lot of markets only serve cooked meals at night), since all the characteristic "northern style" dishes are on display. Of course, you can opt for the intimacy and the decorum of upper class restaurants, but, in my opinion, the quality doesn't justify the price rise.
Don't miss: khao soi noodles
It was a close race between khao soi and "northern style" sausages, but the best known northern Thai dish wins out. The combo of yellow curry noodles dipped into a thick creamy coconut milk sauce will have your stomach and your brain shooting bolts of approval right back at one another. 
Phuket
Our roundabout culinary vacation plan takes us down south to our final destination - the island of Phuket. The surreally gorgeous island offers dining to suit every pocket, from a variety of street vendors to high class restaurants. Even though Phuket doesn't have a clearly defined culinary identity (you will find anything from traditional Thai to classic European restaurants), it has an abundance of establishments that can cover your every dietary need. In other words, it is a mish-mash, but a highly entertaining mish-mash that will have you struggling to make a choice.
Don't miss:  Massaman curry
Phuket doesn't pride itself on many authentic dishes, but - if forced to go local- massaman curry is the way to go, especially if your palates are sensitive to the hotter side of the spectrum. A distant cousin to the European beef stew, this southern-style beef curry is as mild of a dish as you'll find in Thailand. Tender beef submerged in a tomato-rich sauce and topped off with nutty crunchiness with rice on the side - not the most exotic of dishes, but palate-pleasing never the less.
By accepting you will be accessing a service provided by a third-party external to https://landed.at/