Roatan is a little known spot even today many people have not heard of this elongated crocodile shaped paradise. It started to gain some notoriety in the later 1900's as a scuba diving location and was firmly rooted on the backpacker tourist map because of its diving and sister island Utila, famed for being the cheapest place to learn to dive in the word with the possibility of snorkelling or diving with the worlds largest fish the whale shark.
The original charming village of West End was the original diving hub with a few pioneering dive shops such as west end divers. It [West End]only recently gained a concrete road robbing it somewhat of it's beachside paradise. It still has bags of it with palm trees and pretty church and the most amazing sunsets.
Where is Roatan?
Roatan is the largest and most developed member of the Bay Islands not too far from Belize and the Bay Islands is the local grouping term of the islands but after some swapping with Belize and Britain it became a part of Honduras. It has a mixture of Caribbean and Central American influence.
Getting to Roatan
1) Roatan has an airport- land at tiny Juan Manuel Gálvez International Airport
that and two other ways of entry seem to be the way people get there.
2) Ferry from the mainland port of La Ceiba is the backpackers' way with cheap fares. Backpacking through Central America was a thing if you were cool because too many people were doing Mexico and they needed to go deeper into the culture. Passing into Guatemala then Honduras was the way to do it.
3)Many visit Roatan via cruise ship- they are always sad to get back to the ship.
Roatan Scuba Diving
The main reason the majority of tourists come to Roatan is to dive. The cruise ship visitors skew that data but many of them try scuba diving here as it cheap and if you are going to try scuba then Roatan is unbeatable anywhere. PADI do a Discover Scuba Diver course and this is possible even if you are arriving for the day on a cruiseship. You get a good classroom and pool/confined water session with your instructors and divemasters before heading out for a shallow but exceptional dive experience. For experienced divers it gets better the topography gives you 2 weeks of diving a different site for each dive. Canyons, caves, walls drift diving, sandy flats, wrecks and the visibility is amazing. There are perhaps too many diveshops now but the people keep coming and diving. So the infrastructure is developing and the village feel of places like west end will change, a victim of it's own success, but it's still the place I will always return to.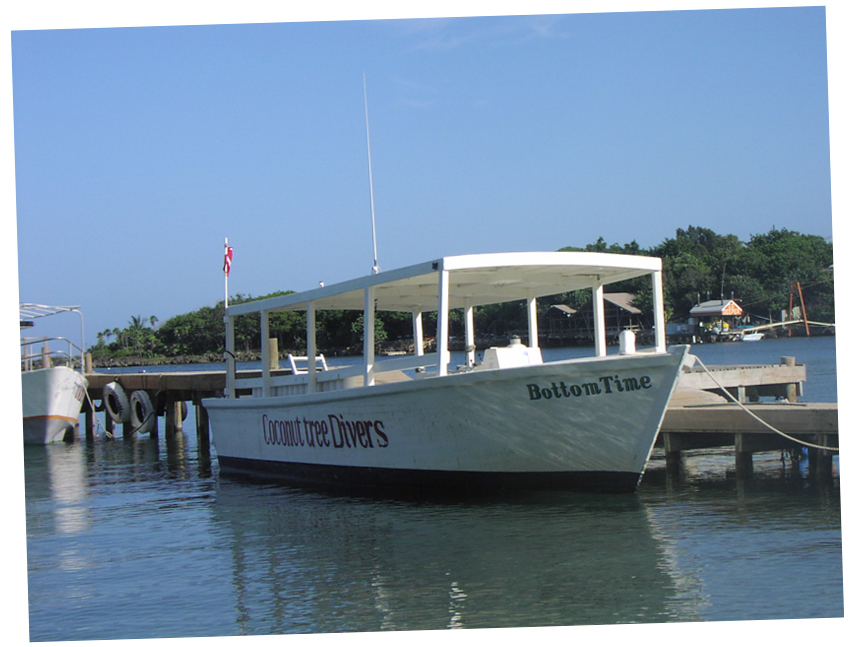 Coconut Tree Divers Old Dive Boat- Bottom Time
It's very much not just for scuba diving and the range of things to do is a great as any bigger island it really is a magical place. This is one such 'development' Little French Key
You can see why.
You can also swim with dolphins drive buggy's across the sand and go sea fishing. The problem is choosing what to do- the burden of choice.
West Bay Beach - Roatan
All Images Copyright 2021 Calvin Crane