North America Travel
North America
It isn't any wonder that many people born in North America never leave; indeed they don't have to. Yes the cultural change would be a bit of a shock, but as rapidly as globalisation occurs, that is lessening each year. There are stunning beaches, architectural delights in Metropolises such as New York. Natural wonders like the Grand Canyon and National Parks like Wyoming that will take your breath away. There are some of the worlds best Ski Resorts, some amazingly funny accents in Canada and wildlife that will eat you! It's a shame about the tipping- if you must please keep it at home guys.

Find Cheap Hotels in The USA and Canada with our price comparison tool from AGODA.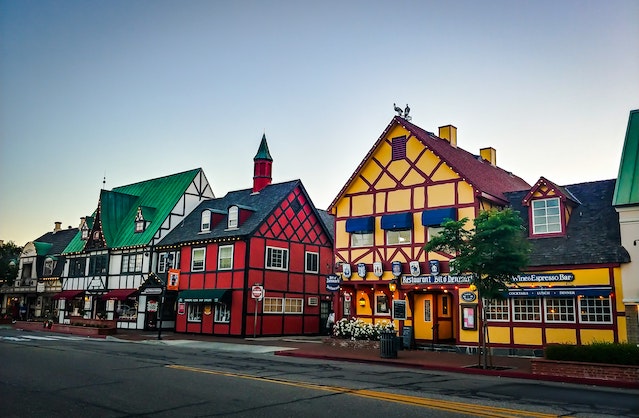 Details

Category: United States of America
Solvang
If having the opportunity of enjoying a ride between San Francisco and Los Angeles on the US 1, you will find several beautiful towns to visit. But among them, there is one in particular that is like a little piece of Denmark just in California: Solvang.
This city, part of the Santa Barbara county, has buildings, windmils, squares and parks following the traditional Danish style and a few hours stop here is totally worth it.
Not only because of the number of cute and interesting shops to explore, the Hans Christian Andersen Museum and Elverhoj Museum of History and Art and the Misión Santa Inés (located near the center of the town, at the junction of the State Route 246 and Alisal Road, very interesting!!!) but because of the fantastic bakeries and restaurants where you can taste the excellent Danish cuisine,in particular the pastries.
It is a good idea also to check the city calendar in advance because there are city festivals and special meetings.
Video
Location Map
Photo by Soly Moses: https://www.pexels.com/photo/colorful-houses-beside-the-road-5999119/
Details

Category: United States of America
California is the third largest state on the West Coast of the USA. It is nicknamed the 'Golden State' perhaps in part because of the gold rush but today its obviously wealthy in terms of the cities it houses and the glorious topography.Un-obviously the capital is Sacramento when you might imagine it to be San Francisco or Los Angeles. There are so many places of interest that you could just travel your whole life in California and not get bored apart from the culture you might miss staying in the one country though California is culturaly diverse. Due to a 'clerical error' California belongs to the United States ! It might have belonged to Mexico otherwise. California being so large has various climates but you might imagine that they cover the Mediterranean seasons across the year - Los Angeles has the worst smog and San Francisco is famous for fog, both are acceptable with ac.