People from all around the world travel to Las Vegas every year to take in the fabulous sights, enjoy world class shopping, sample the varied cuisine, party, gamble, and basically let loose for a while. Sin City, as it has become affectionately known, has everything that the adult heart could desire, from around the clock partying and the chance to win life changing money to the most fabulous hotels you can imagine.
Venetian to Planet Hollywood
Directions
Photos of Las Vegas
Image Credits
https://www.pexels.com/photo/cars-on-road-near-buildings-1769577/
Photo by Zachary DeBottis

For the ultimate Las Vegas experience – particularly for those visiting for the first time – staying at a hotel on the famous Las Vegas Strip (aka Las Vegas Boulevard) is a must. Here, you will find yourself immersed in the bright lights and fantastic atmosphere of this adults' playground, making for an incredible and memorable vacation experience.
Of course, one of the things that you have to decide before you head to Vegas is where you are going to stay – and the choice is plentiful to say the least. Sprawling hotel resorts line the Strip creating a wonderland filled with sparkling lights, majestic structures and unbelievable sights. As you wander up and down the Strip you can see everything from the Eiffel Tower and the New York Skyline to St Mark's Square in Venice and the turrets of a very colourful medieval castle.
In general, the hotels in Las Vegas represent great value for money considering what you get for your cash. When you stay at one of the big casino resorts you not only get a room (usually a pretty large, impressive one) but you also get to stay in a complete resort, with everything from pools and loungers to while away the hot summer days to shopping malls, a multitude of restaurants, night clubs, theatres and, of course, the famous casinos for which Vegas has become known.
Deciding which hotel to stay in can be quite difficult because each hotel has its own unique charm and character. When you are considering which hotel to book on the Strip you need to take into consideration a number of different things, such as the cost of the room, the location of the hotel and the amenities on offer. The North end of Las Vegas Boulevard is the quieter end of the strip and whilst there is still plenty of action it is the mid-strip and south end of the Strip where it all seems to happen!
As part of my recent visit to Las Vegas I stayed at and reviewed two different resort hotels. The first, The Venetian, was located more towards the North of the Strip whilst the second, Planet Hollywood Resort & Casino, enjoyed an enviable mid-strip location. Whilst I enjoyed both of these hotels immensely, one did ultimately rate higher than the other for me and this was for a number of reasons. Below you can find my reviews of each of these fantastic Las Vegas properties.
My reviews are not only of the hotels themselves but also the service, the atmosphere, and even my experience of the hotels prior to arriving in Vegas. As a writer, I have to be prepared with as much information as possible before I travel (apart from anything else, it makes life much easier when you are writing reviews!). On top of this I regret to say that I am one of those people that worry and fret about every little detail when planning a trip. I like to know as much as possible upfront so that I can organize myself properly and know exactly what I am doing when I get to my destination. As a result of this, I made quite a lot of contact with the two hotels prior to travelling, which has also formed part of my review.
The Venetian Las Vegas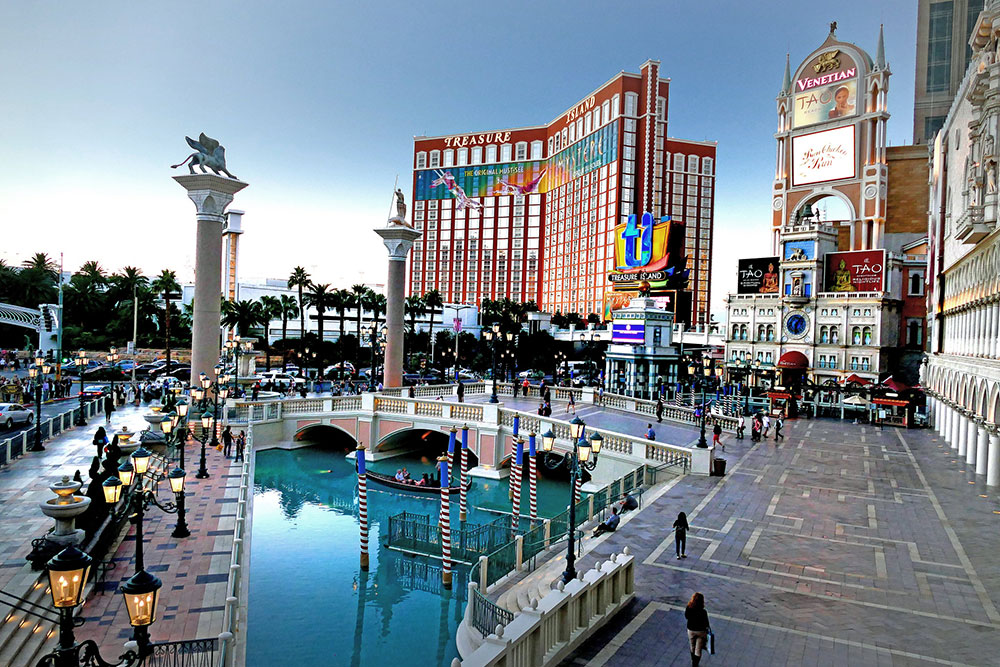 The Venetian, as the name suggests, is a Venice themed hotel. A sprawling structure located more towards the North of the strip, this is a beautiful and elegant hotel offering many facilities and amenities as well as a somewhat surreal interior complete with artificial sky and canals with gondoliers transporting visitors around for a unique – if a little cheesy – experience. This hotel was definitely an experience to remember and even if you do not stay here it is well worth a visit to take a look at the interior.
WEBSITE: The Venetian website is elegantly laid out and pretty easy to use, so you can quickly determine what sort of accommodation is available and how much you will pay to stay here during your Las Vegas visit. You can also find out about the various amenities and facilities on offer as well as any special events taking place.
CONTACT PRIOR TO TRAVEL: Having arranged my trip to Las Vegas around five months prior to travelling, I sent the hotel a number of emails asking a variety of questions ranging from the cost of upgrading and what sorts of rooms they had available for the week that I was visiting through to questions about deposits and resort fees. Whilst the hotel did get back to me around 90 percent of the time the contact was quite sluggish and it could sometimes take days to get an answer.
WELCOME: Upon arrival at the hotel I was greeted, thankfully, by a very small queue to check in. Having travelled for more than 12 hours to get to Vegas this was a real relief. Within five minutes we were at the desk and ready to check in. The man who checked us in was very friendly and made us feel very welcome. He gave a good, thorough explanation about the room we were in and the facilities at the property.
ROOM: The room we were assigned was a Luxury View suite in the Venetian (as opposed to the Venezia Tower, which I understand is a bit more difficult to get to from the main action of the resort). I had originally booked in for a standard suite but was asked if I wanted to upgrade to a view suite, which I did at a cost of $30 per night plus tax. The room was very elegant, comfortable, and nicely laid out, with a king size bed, a sunken living area and a very comfortable L shaped settee.
The bathroom was beautiful, with marble and gold fixtures, a very deep soaking tub, a sparkling shower cubicle, and even a TV. Sadly, you couldn't actually watch the TV whilst in the bath as the view was obscured – unless you bathed with your back stuck up against the taps, which is a definite no-no for me! There were two other TVs in the suite, one opposite the bed and one in the living area.
The view that we had was of Treasure Island, the hotel opposite, but being more towards the North end of the Strip there wasn't much else in the immediate vicinity in terms of the view. Despite this, it was still lovely to look out of the window, after raising the blinds by remote control, and see Treasure Island and behind it Trump Towers all lit up at night.
The room was equipped with the usual things, such as a table and chairs, phone, etc. It also had the added benefit of a fax machine and a large workstation, which was handy given that I was working. One downside of the room was that the refreshment centre, which included water, fruit juice, and chocolates, was set up rather precariously on a tray right in front of the TV in the living area. Given that you were charged for even moving items off the tray you had to be really careful when walking past or using the TV in case you knocked anything. This could be a bit tricky if you stay here with kids!
I also tried out the room service on my second day and there was a nice selection of dishes to choose from. I placed my order, which was set to arrive within 45 minutes. However, it was actually around an hour or slightly more before it arrived – and when it did arrive the kitchen had sent up the trolley without my main breakfast on it, so although I got my coffee, juice and fruit, the omelette was nowhere to be seen and the poor lady who brought it up had to go all the way back down for it.
Overall, I was very impressed with the room, which was comfy, clean, elegant and quite beautiful. For the three days that I was there I felt extremely at home in the room. In fact, it was so homely that I went through periods where I didn't actually feel as though I was in Vegas and had to look out of the window at the view to remind myself that I was actually in a Vegas hotel and not at home. Whilst feeling at home is a good thing most of the time, I can't help thinking that it took away from my Vegas experience just a little, as I felt more like snuggling up on the settee and watching a movie than getting dressed and heading out into the thick of the action.
Unfortunately, this is one of the many hotels that charges a mandatory resort fee for services that most people do not need or use. The only service I used was the Internet, which was included in the fee, but for those who have not come to Vegas to work this could end up being a waste of money but one that is unavoidable.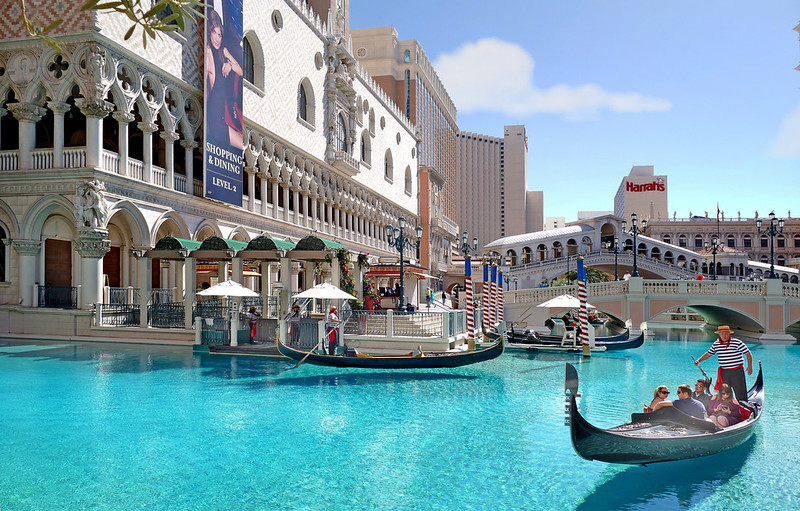 https://www.flickr.com/photos/volvob12b/
FACILITIES: The Venetian resort is packed with facilities and amenities, which means that you could quite easily not leave the resort at all during your vacation and still have loads to see and do. In addition to taking in the sights of the canals and St Mark's Square, you also had the Grand Canal Shoppes, which were plentiful if a little upmarket. The resort offered plenty of dining options too, from a cheap and cheerful food court through to higher end eateries. I sampled the food at the Grand Lux Cafe and found it to be reasonably priced and very tasty. I didn't think that there was much of an atmosphere in there – the waiting staff dished out the food very professionally but it wasn't really service with a smile – more of a robotic gesture. I also ate at Johnny Rocket's at the food court, which was fine for a quick bite to eat on the go. Unfortunately, the resort was so big I didn't manage to get around all of it in the three days that I was there on top of which it was quite cold in December so I didn't use facilities such as the pool. However, you will find plenty of other facilities here, including the impressive range of pools, the night club, theatres with shows including Phantom and Jersey Boys, and much more.
CASINO: The casino at the Venetian was very large, like most other resort casinos. There was plenty of choice when it came to slots and of course the usual range of table games. Most people who read reviews about casinos are interested in the cocktail service, so this is something that I kept a close eye on. I have to say that this was patchy at best. Occasionally, you would get lucky and have a couple of waitresses come over in the space of half an hour. However, other times I waited for well over an hour before I even saw a waitress and then had to spend time getting her attention in order to get a drink. In fact, out of all the casinos that I visited whilst on my trip this is the only one where I decided to head to the bar and get the drinks myself.
ATMOSPHERE: The atmosphere of the room and the hotel in general was what I would describe as 'really nice'. It was friendly most of the time, homely, and comfortable. The Christmas festivities also injected some fun into the atmosphere. However, having only just turned 40 and with a partner who is still in his 30s, I thought that the atmosphere was more suited to older people or those that have decided to bring kids along to Vegas with them. Whilst this was a really lovely hotel I think that the cost of rooms, the location, the general clientele, the upmarket shops and facilities, and even the music made it more of a place for those with expensive tastes or those that wanted a bit more peace and quiet.
REWARD SCHEME: I have mixed feeling about the Grazie rewards scheme at The Venetian. As a new member, I was informed that each time I reached a particular points level I would be eligible for a reward, such as free slot play or money off dining at the resort. The woman that signed us up for the scheme was very informative and true to her word rewarded us with free slot play when we reached the desired level. However, having returned from Vegas it appears that apart from the reward that you get at the hotel at the time, your Grazie membership does not really give you much else. The scheme does not appear to offer perks such as discounted or comped rooms for future stays, which is quite disappointing. My partner used his card a huge amount in the three days that we were there, accruing over 5000 points (for which he received $100 in free slot play) yet he still has no offers or comps on the Grazie/Venetian website. So, whilst the card appears to fine to get free slot play or other perks whilst you are at the resort it does not really seem to offer much else for the future.
Planet Hollywood Resort and Casino
Planet Hollywood Resort & Casino is another huge property that dominates the mid-south end of the strip. This is a really hip, cool resort, which is colourful, exciting and fun. PH is surrounded by many other great hotels and resorts too, giving it a brilliant position on Las Vegas Boulevard. PH is what Las Vegas is all about for most people – having fun, partying, seeing the sights and being immersed in the bright lights of the Strip. For me, the day that I moved to PH for the last four days of my trip was the day that my proper Las Vegas experience really began.
WEBSITE: The Planet Hollywood website is part of the overall Caesar's Entertainment website, which also includes details of a range of other Strip hotels including Harrah's, The Flamingo, Bally's, Paris, and of course Caesar's Palace. The great thing about this is when you enter the dates that you want to stay on the website you can check the cost at all of the Caesar's properties on one website, which saves you a lot of time and hassle. The website, like the hotel, is cool and trendy but also very easy to get around and use.
CONTACT PRIOR TO TRAVEL: My first impression of PH was formed before I travelled to Las Vegas and I cannot praise the staff and even management at Caesar's highly enough when it comes to communication. I have to say that I was a royal pain in the backside in the months leading up to my trip and at one point I think I was emailing PH several times a week for information to help not only with my review but also in planning my trip. The staff that dealt with me had no idea that I was doing a review, so I cannot even put their competence down to wanting to impress. Each time I emailed the resort to ask a question, which ranged from how the rewards scheme worked to what the deposit options were, I received a response within 24 hours – sometimes right away depending on the time of day that I emailed. Moreover, the responses were not just cursory one-liners but full and detailed responses that were very helpful. In fact, I was so impressed by the speed of response and level of information given that I emailed one of the managers to express how much of a credit one member of staff in particular was. I was not expecting any response to my comment, but to my surprise, within an hour or two of sending the comment, I had received personal responses from the Director of Corporate Communications, the Director of Hotel Operations, and even the Senior Vice President and General Manager! On top of the management team thanking me for my comment I was also invited to use the Diamond registration upon check in when I visited PH.
I have always believed that the way in which any business, including hotels and resorts, communicates with a potential customer prior to them becoming an actual customer is a good sign of things to come. With Planet Hollywood I pretty much knew that I wouldn't have any problems because of the confidence that was instilled in me by the excellent communication of staff and management.
WELCOME: We arrived at Planet Hollywood Resort & Casino early Sunday evening after leaving The Venetian. Upon arrival, I went to the Diamond registration desk as instructed and was greeted by a young man named Chester. He was very polite and friendly, even when he had to wait for me because I had inadvertently locked my credit card into my suitcase! Once I had managed to get all of my ID and credit card together, Chester informed me that I had been upgraded from a fountain view room to a panorama suite. He told me that it had lovely views and explained clearly where we had to go and how to find the room.
ROOM: Even as I type, I cannot believe how fabulous my room was at PH. Whereas at The Venetian I had felt at home and cosy in the suite that we had, at PH I felt like a rock star! To me, this is what Vegas is all about. The suite was huge, fabulously trendy and chic, and offered the most amazing panoramic views of the surroundings. Floor to ceiling windows ran from one end of the room to the other, giving incredible views of the Eiffel Tower, the Bellagio fountains, the Paris balloon, and the glitz and glamour of the mid and south strip. I could even see the Palms Hotel in the distance. The living room area of the suite was beautiful, with a large table, a very comfortable chaise lounge with a throw on it, a couple of leather chairs for kicking back, and a huge TV that was perfectly placed for watching from the chaise lounge.
I actually lost count of how many tables and chairs there were in the suite, which is awesome! In addition to the variety of tables and chairs in various parts of the suite there was also a dedicated desk area, which was ideal for me to work from. A guest bathroom was at the far end of the suite along with a dining table and chairs and there were numerous air conditioning controls throughout the suite so that you could vary the temperature room by room.
The suite had a wet bar with a mini fridge and stools, a coffee maker (unusual for Vegas accommodation!), and as a wonderful touch we arrived to find an ice bucket with champagne and a plate of chocolate dipped strawberries awaiting us. I have to say, when I first stepped through the double doors into this suite, it took me a while to take it all in.
The bathroom, once again, was wonderful, with a really deep soaking tub set in marble, separate shower and toilet cubicle, and a closet with a safe, slippers, robes, etc. From the soaking tub you could enjoy taking in the incredible views of the strip from the many windows of the suite or you could sit back and watch the TV in the living area, which you could see with ease from the tub. The complimentary Gilchrist & Soames toiletries were an added treat for me and they were replenished regularly so we never ran out.
The bedroom in the panorama suite did not disappoint either. The bed was huge and extremely comfortable. Again, you could take in the view from the window, which gave an unrivalled view of the Eiffel Tower – wonderful to fall asleep to. There was also another huge TV in the bedroom, with a good choice of pay movies and channels to choose from.
Being from the UK, I am used to staying in pretty poky hotel rooms so finding myself in this stunning and very contemporary suite was amazing. From the wonderful touch of champagne and strawberries to the decadent decor and wonderful layout of the room, this is a suite that I will remember for a long time to come. The only regret I have about my stay in the Panorama suite is that there was so much to do in and around this resort, and I had so little time to get my work done, that I didn't get the chance to take a whole day out and simply spend it taking in the splendour and comfort of this suite!
FACILITIES: The facilities at Planet Hollywood Resort & Casino were excellent, as they are with most of the big resorts on the strip. You get to enjoy a myriad of dining options, the nightclub, theatres, shopping, pools and more. An added bonus when it came to facilities was the Miracle Mile shopping mall, which is part of the resort and is packed with shops to suit all needs and tastes. I don't much care for shopping but still managed to spend several hours browsing all the different shops in the mall. I particularly loved the indoor rain storm, which added a real thrill to my shopping experience.
When it came to dining I tried a number of the establishments here. The Starbucks coffee shop was very conveniently located by the casino and great for a morning coffee and Danish. I also tried Blondie's Sports Bar and Grill, which was very reasonably priced for what turned out to be huge portions of very tasty food in a fun atmosphere. The Earl of Sandwich was my next stop, and I actually ordered a takeaway sandwich to take back up to my suite. It was remarkably cheap given how high Vegas prices are for food these days and extremely tasty for a late night snack. Finally, I tried out Planet Dailies a couple of times and both times we received extremely friendly service, very tasty food, and competitive pricing. The waiters were very friendly and chatty, making us feel at ease and relaxed.
CASINO: I have to say, I loved the casino at Planet Hollywood. After spending three days listening to Christmas songs and relatively quiet music at The Venetian it was refreshing to find myself at the heart of the action at PH. The casino was very large with plenty of machines and tables to choose from. The Pleasure Pit had a party atmosphere all of its own, with a real buzz and exciting vibe. The lighting of the casino also added to the thrill of playing here, as did the 'banging' tunes (which I still can't get out of my head!). A great added touch was the live bands that were playing at the casino, which always managed to get the crowds going.
The waitress service at PH was very impressive and I don't believe that I ever had to wait longer than ten minutes or so after sitting at a machine before someone came round asking if we wanted cocktails.
ATMOSPHERE: As soon as I stepped out of the cab on my day of arrival I knew I was in for a fun few days. PH is like being at a twenty four hour party but at the same time you always have the oasis of your room if you want to escape for some peace and quiet. Being in the middle of all the action and literally right next to so many other attractions and sights makes for the perfect Vegas experience at PH. This is definitely a hotel that will appeal to younger people but it's also a wonderful choice for those that want to come to Vegas and have FUN no matter how old they are.

REWARD SCHEME: The Total Rewards players' club is something that we signed up to on our first day at PH. I must admit that at first I found the scheme a little confusing. Whilst my partner was using the card to play at PH and the other Caesar's properties he couldn't quite work out what rewards were given and at what level, as no information had been given at sign up. However, a quick visit to the TR desk enabled him to check whether he was in line for any rewards. Over the four days that we were there he managed to earn close to around $30 worth of resort comps, which enabled him to pay for breakfast using his TR card on our last day here.
I thought that was pretty much it with regards to the rewards scheme – we had earned our points, spent them on a comped breakfast, job done. However, I had a great surprise when I arrived home and checked on the Caesar's website using my partner's TR card. We both had such a great time in Vegas that we were already planning our next trip for 2012 within days of getting back home to the UK. This is when my partner discovered that he could now enjoy comped or reduced rate rooms at most of the Caesar's hotels on the strip. Having checked the cost of accommodation we discovered that at many of the Caesar's Group hotels most of the days, apart from weekends, were comped and with one or two hotels the whole stay was coming up as being comped. Now that's what I call a rewards scheme!
The Overall Winner The Fabulous Planet Hollywood
Although I did enjoy having a relaxing few days at The Venetian for the first couple of days of my trip, most people go to Vegas to have fun not to relax – and the place to do it in my opinion is Planet Hollywood. Out of the two hotels I stayed in, PH has to win hands down for a number of reasons, which include:
The electric atmosphere and buzzing environment
The incredible, stylish room
An excellent location on the Strip
A huge range of facilities including the shopping mall
Competitive pricing on rooms as well as on dining
Excellent waitress service in the casino
Service with a smile from pretty much all staff I dealt with
Excellent communication
Very impressive rewards scheme
No resort fees like most other Strip hotels
Whilst I spent a lot of my time in Vegas working, taking notes, and writing, I still enjoyed myself so much that I am determined to go back again next year!
Reno Charlton copyright © 2019 All rights reserved
The Venetian Vs Planet Hollywood Video