3 minutes reading time
(560 words)
All Inclusive Turkey Hotels - A popular choice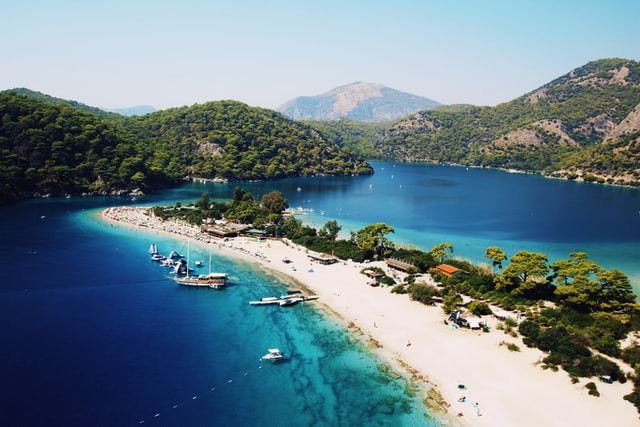 Getting there
Many of the low cost airlines now operate flights to the Turkish airports through the holiday season. Flying time is never more than 4 hours from most of Europe to all the main airports of Izmir, Bodrum, Dalaman and Antalya.

From the airport it is possible to pre book resort transfers through various online companies. During the winter season there are a few charter flights into Antalya, but for the other destinations may mean going via Istanbul.
Turkey is now one of the most popular all inclusive destinations for family holidays from the UK. With a recent increase of quality hotels being built along the coast which offer outstanding facilities at sensible rates it seems the trend will continue.
It was just 25 years (JUST ???) ago that a small holiday company called Sunmed started offering package holidays to the new holiday destination Turkey. At that time it was not a place that many people would consider for there annual holiday, for many all that came to mind when Turkey was mentioned was the film Midnight Express that had been out in recent years.
Well things change quickly. Now Turkey is a big player in the UK holiday market and the all inclusive hotels have become very popular with British families.
Oludeniz Turkey Location Map
Advantages of a holiday in Turkey?
Turkey has miles of coastline that was undeveloped, unlike other areas of the Mediterranean. It is still the case today in 2015 indeed much investment has seen mega resorts like the Aska Lara Reviews crop up near Antalya for example. These resorts feature swimming pool complexes water parks and fun fairs. Thats not all multiple restaurants and everything else you can find on a cruise ship.

Over the last few years some fantastic holiday resort hotels have been built offering various restaurants, swimming pool complexes, with entertainment day and night. This has been a hit with the family market, pay your money and very little extra is needed (a big all inclusive advantage).
The south coast around Antalya has some really amazing hotels, however the coast here is a little bland. The best area in my view is around Fethiye, the resort of Olu Deniz is still a lovely destination. High cliffs with amazing bays with aquamarine seas. Stay in the resort itself or one of the villages above the beach, also many holiday resort hotels have sprung up a few miles along the coast. For a livelier holiday the holiday towns of Bodrum, Marmaris and Kusidasi are very popular choices. These are now large sprawling holiday towns that have thousands of visitors every summer. Often it is better to choose a hotel a few miles away from the center, then you can enjoy a bit of peace and quiet in the day but have all the action on your doorstep. The local Dolmus [ Mini bus service ] is both cheap and regular, a great way to get from A to B throughout Turkey. With booking again up, it is expected that the market will grow by around 20% this year for holidays to Turkey, with the all inclusive market being many peoples first option.
Beware shopping in turkey that designer labels are often counterfeit however you can still find some bargains - just be aware what you are buying.
By accepting you will be accessing a service provided by a third-party external to https://landed.at/