Qatar Travel Guide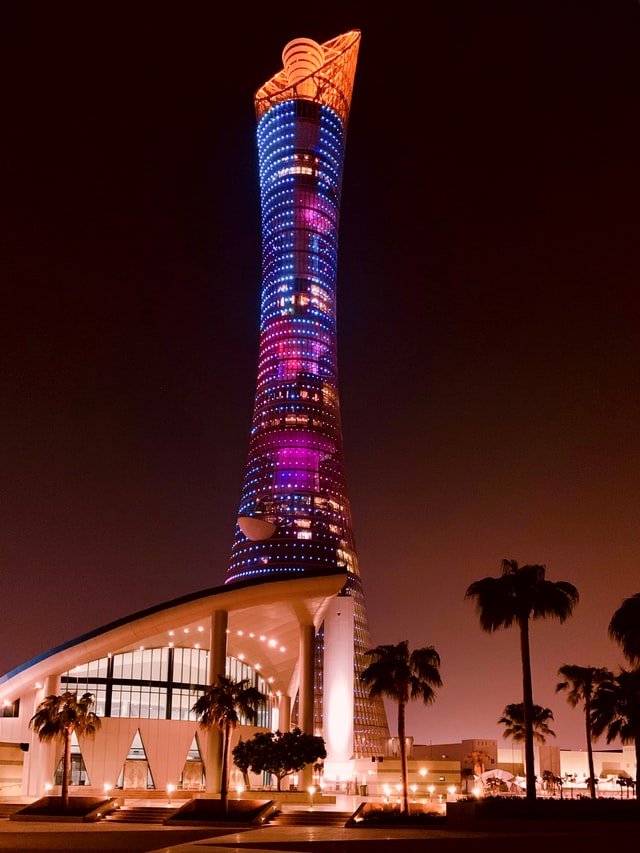 The Torch Doha, Al Waab St, Doha, Qatar
Flag of Qatar 🇶🇦
From the outside you might think that the tiny (only 11,000 square miles) of Qatar is the stereotypical Middle Eastern country of desert, camels, and not much else.
No so. With the upcoming World Cup games coming to Qatar in 2022, located near countries like Saudi Arabia and UAE, they've decided to make themselves ready for the world to come.
Location Map
Right now Qatar is quiet and intimate, with almost half of its 907,000 people living in the capital city of Doha. Doha has all sorts of wonderful attractions, including the Qatar National Museum, Islamic Art Museum, and the Doha Golf Club. One of the most famous sites is its Doha Fort, built by the Turks back in the 1800s.
Outside the big city are places like the inland sea area of Khor al-Adaid that's great for 4-wheeling to camping and picnics. A dhow boat ride around the region is a relaxing and unique way of making your way around.
There is desert, so if you're looking for some camel riding or other adventures you'll want to hit up Bir Zekreet. Camel racing is popular in Qatar, so make sure you get your bet in.
A Camel race in Qatar- note the use of robot jockeys.
And picking the right camel is a bigger gamble than, say, eating or drinking in Qatar. Most water in Doha is safe, but if you're headed outside the capital stick to the bottled or boiled variety.
Try the schwarma (shaved meat served in a delicious pita) or the Egyptian inspired taamiyeh, which are fried chickpeas. Like what you've tried? Cooking classes are offered for anyone interested.
Don't worry about some calories--you'll burn them all off walking around Qatar's souks. You best practice your bargaining skills before leaving home to get the best prices on spices and silks.
It is also best to make sure your vaccinations are updated before leaving home, and you've contacted the consulate for your visa. Some Nationals can receive one upon arrival.
Don't let anything stand in your way of placing your bets, destressing at a spa resort, or just having an all-around great desert adventure.
Credits
The Torch Doha, Al Waab St, Doha, Qatar Photo by Bashir mohd