If you're planning a romantic getaway to Zakynthos, Greece, you're in for a treat. This picturesque island in the Ionian Sea offers a stunning array of beautiful beaches where you and your partner can relax, unwind, and create lasting memories together. From secluded coves to breathtaking sunsets, Zakynthos has it all. In this article, we'll explore the most romantic beaches for couples to visit on this enchanting island.
Shipwreck Beach (Navagio Beach)
One of the most iconic and frequently photographed beaches in Zakynthos is Shipwreck Beach, also known as Navagio Beach. Nestled between towering cliffs, this secluded cove boasts crystal-clear turquoise waters and soft white sands, creating a mesmerizing setting for couples seeking a romantic photo romance. Accessible only by boat, the journey to Shipwreck Beach is an adventure in itself, as you sail through the azure waters and marvel at the dramatic coastline. Once there, you and your partner can enjoy sunbathing, snorkelling, and taking in the awe-inspiring views. The best time to visit is during the early morning or late afternoon to avoid crowds and bask in the serenity of this natural wonder. Sadly the crowds make this a non-romantic beach in some ways. But you will make everlasting memories here.
Gerakas Beach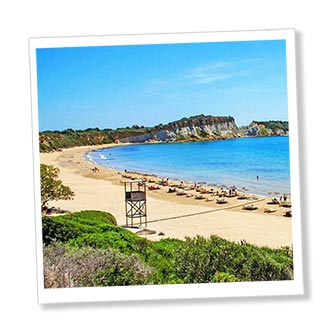 For a more tranquil and intimate experience, head to Gerakas Beach, located on the southeastern coast of Zakynthos. This charming beach is not only a protected nesting site for loggerhead sea turtles but also a haven for couples seeking a romantic ambience. The golden sands and gentle slope into the sea make it a perfect spot for leisurely walks hand-in-hand and swimming in the clear, shallow waters. Gerakas Beach is known for its natural beauty, so make sure to respect the environment and wildlife while you enjoy your time together. Visit during the nesting season from May to October, which is the holiday season in Greece, for a chance to witness these majestic sea turtles and their hatchlings.
Porto Limnionas
For couples in search of a more adventurous beach experience, Porto Limnionas is an excellent choice. This hidden gem is located on the western coast of Zakynthos and offers a unique setting with its rocky cliffs and stunning turquoise sea. The natural rock formations create small pools, perfect for private dips and moments of seclusion. Snorkelling is a must at Porto Limnionas, as the underwater world is teeming with marine life and vibrant colours. To fully embrace the romance, consider packing a picnic and enjoying a meal overlooking the breathtaking views of the Ionian Sea.
Makris Gialos
If you're looking for a beach with a touch of luxury, Makris Gialos won't disappoint. Situated on the northeastern coast of Zakynthos, this beautiful beach offers a blend of fine golden sands and pebbles, making it a unique and visually appealing destination. Couples can rent sun loungers and umbrellas for added comfort while admiring the striking cliffs surrounding the bay. The shallow, crystal-clear waters are perfect for swimming and exploring together. Makris Gialos is easily accessible and offers a selection of beachside tavernas, allowing you to indulge in delicious local cuisine while savouring the romantic atmosphere.
In conclusion, Zakynthos is a dream destination for couples seeking romantic beaches and idyllic settings. Whether you choose to visit the famous Shipwreck Beach, relax at Gerakas Beach, explore the enchanting Porto Limnionas, or enjoy the luxury of Makris Gialos, each beach offers a unique experience that will surely ignite the spark of romance. As you plan your trip, remember to cherish the beauty of the island and respect its natural wonders to ensure that future generations can also revel in the love and magic of Zakynthos.
Travel Author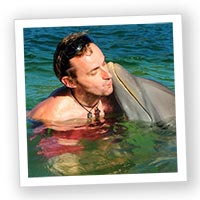 Calvin has been visiting Greece for many years and loved buying beers with Drachma and has a good amount of local knowledge of the island.
He hates leaving after any trip and has to console himself by writing and sharing articles and photos on it. You can find and connect with him on linked in here.

Likes
Travel, Gaming, Scuba Diving, Skiing and anything to do with water.

Dislikes
People who don't care, politicians doing nothing and needless competitivness- oh yes and being tired in an airport.
---
You may also like
https://landed.at/europe/greece/best-beaches-of-zante-for-relaxation