This is a piece of writing in 2023 as we took a jet2 holiday to Skiathos (Σκιάθος) just before Summer 2023 May!
About Skiathos
Skiathos Location & Map
Skiathos is located on the right hand side of the mainland Greece (opposite side to Zakynthos and Corfu) in the island chain known as the Sporades.
Skiathos Island Map
Skiathos Blog
This is the informal blog of our week.
As I write this travel blog it's day 2, morning 2 to be exact and the weather is a little overcast. For this time of year this can be a thing here. But it is always mostly sunny for part of the day.
The weather saw another rainy morning but then for the rest of the week it was clear still the mobile phone warned of rain. That caused us to plan a little differently as we may have done a tour had this not been the case. Instead we took it day by day. We had such a lovely time by the pool and at the beach not sure a tour would have made our stay any better.
It's not a party island and that makes it so much the better. There are places you can find a drink and we danced at a Greek night over at a place called the crazy rooster.
Skiathos Town
Skiathos town is great for an evening with actually better value than the beachisde restaurants. Ok lets have that discussion early so we can enjoy the lighter side of what you need to know about Skiathos.
Is Skiathos Expensive?
Skiathos is nothing like budget Greece of old- if you managed to spend some time back then lucky you! I do think it's on the expensive side yes. Typically you will pay at least 5 euros for a glass of wine at the best, better to buy a litre which can be 14 from good restuarants. House wine we found to be good. Here is a sample menu taken from Vromolimnos Beach Restaurant.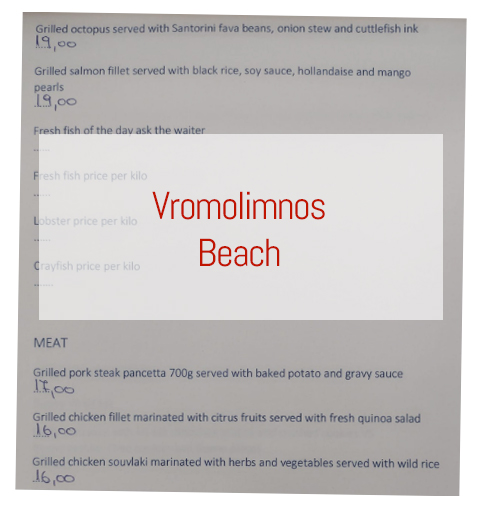 As an average for a couple with an 11 year old eating out the cheque price was from 70 to 80 Euros, we had usually a litre of wine a soft drink water and the bread they bring you. Usually Tzardziki too. Hope this helps you budget for a week on Skiathos. There are more budget places to eat such as the gyros places where you will spend still 7-10 euros for the gyros.
Minimarkets
We had a minimarket near where we stayed at Villa Miltos. The prices were ok and could have been worse. So a jar of honey cost 2.70, 2 euros for a croisante in the morning and they had most things a holidaymaker would want including inflatables for the pool. A jar of coffee was around 4 euros milk just under 2. I was happy that we had them and they were very helpful with information too.
Taxi Costs in Skiathos
We had a transfer included in our stay so we didn't know the airport price. In fact another time I might just book a private transfer as we waited in the coach for the Skopelos ferry to come in with passengers for our plane. We did take a taxi into town for 10 euros and it was 14 back- there is a taxi rank from the harbour edge. We were waiting for the bus which would have been 2 euros each this taxi guy asked us if we wanted a lift. He just said 10 and we didn't haggle. It seemed good to us. We did pay too much to go to Koukounaries via using the same taxi company who charged us 10 to go to town this cost us 22 euros and we were lucky to get the bus back and it was even less than 2 each.
Skiathos Beaches
In a week you can't visit every one but here is where we went; Koukounaries, Voromolinos and Paralia Kolios (Paralia is Greek for beach). We were staying at Villa Miltos a Jet 2 property and both the Voromolinos and Kolios were a 10 minute walk through pine trees on the roads. We preffered Kolios beach.
Koukounaries is busy even out of season and it is lovely but in full season a bit too busy for most. It is famous for it's golden sand with flecks of gold which is no exageration you could believe it was gold. This same gold exists at Kolios in lesser amounts and to the north side is sand and then a small stoned sand that actually leaves you cleaner after a day at the beach. So on Kolios you can get both. At all decent Greek beaches you can rent a set of sunbeds under umbrellas for 15-20 euros. There is a very good restaurant in Kolios called the beach house. If you stay near here or are looking for a beach to spend an afternoon at we would recommend this restuarant and beach. If you want to economise then you are welcome to throw a towel down and use one of the local minimarkets a 10 minute walk away for refreshment. We would recommend reserving a set of beds and umbrella as we didn't think we would need to and got caught out one day.
Landing in Skiathos Video
You can get a great selfie of you with an aeroplance landing in Skiathos as you can get close to the runway. Here is a great example video at the exact moment it passes dangerously close to plane spotters!
https://youtu.be/pN40Pxs27Sw?t=62
Skiathos Weather
Things to do in Skiathos
Atrium Hotel Skiathos
---
About Skiathos AI (Artifical Inteligence)
Finally let's ask AI what it thinks about it and I will see if I agree after!
Question:

Describe Skiathos to me in 2 paragrahps from the tourism perspectives..
Answer:

Skiathos, a stunning Greek island located in the Aegean Sea, is a true paradise for tourists seeking a blend of natural beauty, rich history, and vibrant atmosphere. Renowned for its breathtaking beaches, Skiathos boasts over 60 pristine sandy shores, each with its own unique charm. From the lively and bustling Koukounaries Beach, known as the "Golden Sand," to the secluded and tranquil Lalaria Beach with its majestic white cliffs, visitors are spoiled for choice. The crystal-clear turquoise waters are perfect for swimming, snorkeling, and various water sports activities, ensuring endless enjoyment under the Mediterranean sun. Beyond its stunning coastline, Skiathos is also home to a picturesque main town filled with traditional white-washed houses, charming narrow streets, and a lively harbor. The town offers a vibrant nightlife scene with numerous tavernas, bars, and clubs, where visitors can indulge in delicious Greek cuisine and immerse themselves in the island's festive atmosphere. With its combination of natural beauty, lively ambiance, and cultural treasures, Skiathos is a must-visit destination for those seeking an unforgettable Greek island experience.

In addition to its natural allure, Skiathos offers a plethora of cultural and historical attractions. The island is home to several ancient ruins and landmarks that provide insights into its rich past. The iconic Bourtzi Fortress, perched on a small peninsula overlooking the town's harbor, is a significant historical site worth exploring. The charming cobblestone streets of the old town are lined with quaint shops, traditional tavernas, and Byzantine churches, offering visitors a glimpse into Skiathos's traditional way of life. Art enthusiasts will appreciate the House of Papadiamantis, a museum dedicated to the famous Greek writer Alexandros Papadiamantis, who hailed from the island. Additionally, nature lovers can explore the lush pine forests that cover large parts of Skiathos, offering picturesque walking trails and opportunities to reconnect with nature. With its blend of history, culture, and natural wonders, Skiathos is a captivating destination that will leave travelers enchanted and eager to return.
Did AI get it right?
I always struggle with the overuse of the word breathtaking. I wouldn't use that however the beaches are great- everything you need. Some can be a little busy as mentioned in the blog above.
There is a lot of natural beauty but I do feel that the history is a bit limited. It does mention 2 key beaches however I wouldn't put either first on my skiathos destination list! The main town is truly picturesque though that is true. One of the more charming and perfect sized for walking needs a mention. You can get some stunning photos.


So well done AI in this case! No major objections to your description of Skiathos.
---
Travel Author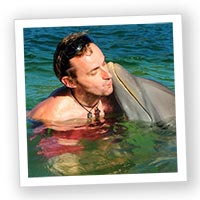 Calvin has been visiting Greece for many years and loved buying beers with Drachma and has a good amount of local knowledge of the island.
He hates leaving after any trip and has to console himself by writing and sharing articles and photos on it. You can find and connect with him on linked in here.

Likes
Travel, Gaming, Scuba Diving, Skiing and anything to do with water.

Dislikes
People who don't care, politicians doing nothing and needless competitivness- oh yes and being tired in an airport.