With my partner, we booked a stay in
Zakynthos
for a week in September after the kids went back to school. It felt like a long school holiday but the British summer had been good this year 22. Just a note on the booking- we made it independent with flights from Jet2 and a room here from booking.com. We didn't get the same value doing the whole package with Jet2.
TL;DR
Is Zakynthos Good For Couples?
Zakynthos is a great destination for couples! With romantic secluded places and perfect restaurants, great accommodations for a start- Read on to discover more reasons why.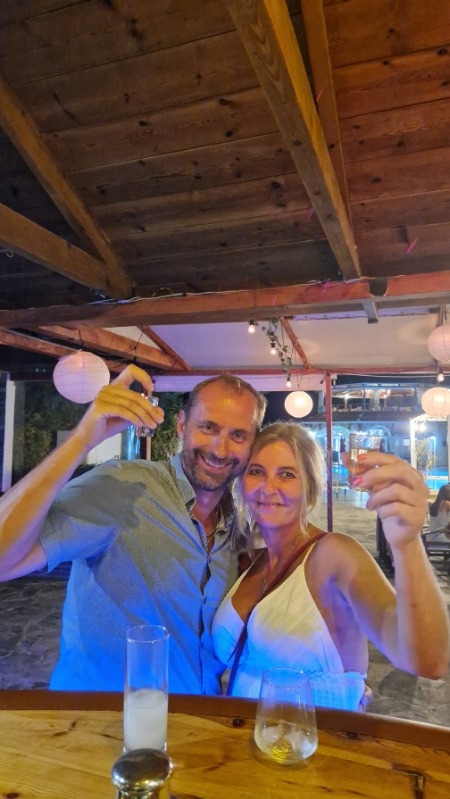 Travelling Out
We flew from Birmingham with a very early flight but that meant we arrived at just after mid-day roughly and could settle in. Yes, we were tired on arrival but that first day on holiday is intoxicating and you feel no fatigue just a joie de vivre. We booked parking that was impossible to find from written instructions. Google directions came to the rescue, I was pretty naff sorry darling. The staff were not helpful either. The parking was poor given the cost of around £100 but in the end, worked. We didn't surrender our keys. There were thankfully no problems due to the ridiculous staff issues as the airlines scaled down after c19. Jet2 had a good rating on delivering holidaymakers not so for Easyjet- we avoided them at all costs. I use Plusnet and you just have to activate a setting to enjoy your package at no roaming cost at all. This is a marvellous advancement in travel convenience across mobile providers. It's nice to be able to say something positive as the years go by. It's not all bad news.
Arrivals In Zakynthos
Upon arrival at the airport, we collected our bags. I thought I should get some euros as whilst I had some from a previous trip I was going to need more. You never know how many ATMs are going to be around so I always get enough for a few days at the airport. It is a good tip that you never change euros or dollars back up if you have some left over. You will lose money that way. Euros and dollars will always be useful even travelling in many other countries.
The pound is weak but I was not prepared for how badly the airport ATM was going to treat me with fees. I decided to try an ATM in town instead.
---
Money ATM Zante
Later in the week, I got this rate of exchange
## 102.50 EUR at 1.15117 rates costing me 89.04 then also a card fee of 2.66
I had booked a transfer in advance for 30 Euros each way and was pleasantly surprised to see my name after clearing customs and passport control. We got whisked to the Letsos Hotel (
my Letsos Hotel Review
) in Alykanas in reasonable comfort. The Letsos hotel has a lady at the desk who will organise this in advance for you. Though the chat in the booking.com app is not the best way to communicate. You can find yourself a private taxi here in advance. Our ride was lovely reminding me of Greece from days gone by. Olive groves greeted us in smell and grace, offsetting the occasional rubbish tip and village. We were beset by something we would learn is popular on the island, Quad Bikes- Quads. The smart holidaymakers can be filtered out as they wear helmets. We elected for a car to transport us around for comfort and were tempted by a Quad. We might do this next time. We arrived in the beachside village/town of Alykanas.
We had booked a room in a block across the street and we had a pool that was for our use only but we could also use the main pool. The Letsos is a short 5-minute walk from Alykanas Beach. We had to cross a small road to get to the main resort/hotel. We had a balcony overlooking the road and I ended up loving spending time here; with a drink in the warmth of September people watching and thinking of the Beef Stifado or Gyros to come.
Review of the Letsos hotel
here.
Our room had an upstairs and downstairs with a pair of single beds on each and taking 4 people is set up for families. So during the school holidays, this resort might have felt different with a lot more kids in. There were kids staying in the resort during our week somehow but there weren't that many. I wondered how they did it as I will be taking my daughter next year with luck and want to avoid the school 'tax'. Even if the resort was full and both pools would then be quite busy the beach being 5 minutes is the place to spend more time. It was hard to choose where to go across the week. We wanted of course to enjoy the lovely pool and resort- and did that on occasion. Then we struck out for Zakynthos town, Banana Bay, the north, Keri and Kalamaki. We could have seen more but it would have been more of the same with a different look and missed the resort entirely.
We enjoyed the main pool of the Letsos that afternoon- the water was lovely and fresh not warm not cold. The bar sadly has awful weak cocktails so stick to the beer or wine. The food is good, the food in Zakynthos is great everywhere. We went out for our first evening meal in one of the restaurants that we ambled upon and I was impressed all round. There was a lovely ambience to go with the meal and we were outside. I never take that for granted.
If you are on a budget then do consider a place without a pool. There are so many beaches you could get away with it. And then Zante has this property thing where you have a restaurant bar and pool. Just go and enjoy. A way to save. You might get a great deal on flights and live quite cheaply as even the minimarkets don't rip you off.
First Full Day
We decided that we would try the local beach and pool for the first day. We did the usual thing of enquiring after a rental car but were undecided as of yet when to take it. Cars are not too expensive and the daily rate is around 50 euros per day for a small car with an odd ding.
As part of the deluxe block in Letsos, we had our own smaller pool which saw few guests in our time. It is a long pool too so you can if you are like me use this to do your swimming lengths. Though I feel it is longer than 25m just. There is no music here or service so you bring your own (service, not music please keep it to yourself via headphones) which is fine. Later in the week, we would bring pastries and coffee from the bakery just down the street. We enjoyed 'our' pool and often we were the only ones using it that week. Some 4 or so rooms share open out to use the pool from the back of the room swim-up style. I am not sure if I want that and I really love my balcony and people watching.
The beach was our second stop and we also got some beachside exploration of Alykanas harbour and ate lunch there nearby. It was so nice to be in Greece again we were both warming to the island rapidly. The sand near our resort and for the length of the beach is fine enough not too powdery and no pebbles which I dislike and we did find on occasion this trip. The beach is very safe with a gentle slope that remains very shallow such a long way out. Great for kids- no current either. Further up the beach, you can find bars that hire out loungers and other places that did pedalos. We discovered our favourite spot to be outside of a resort called Alykanas Village, which Jet2 actually sells all-inclusive deals. We both prefer towels and getting full exposure to being crammed close to others on loungers, We got enough loungers by the pool. We also were to discover a small convenience store as part of the resort which is pretty handy, cool mythos not far. After lunch, we got some nice photos of the harbour here and the small fishing boats. There is a big Greek flag too! This is also close to Mill Bar where later in the week we would be recommended to go for our Greek Night. I had no idea what one of those was! We came back to the main pool for the remainder of the late afternoon sun. In the main pool, you get a vastly different vibe it is busy but at this time ok. Also, note that if you want to use the fancy loungers you will need to pay extra and quite a bit extra too. You don't need them the regular loungers are perfectly fine. They should concentrate on fixing better drinks in my book. That was our day done really and it was great the evening to come and a standard restaurant then drink in a bar for a couple then home to our balcony. We reasoned that we had a better atmosphere and could chill far easier in the comfort of our end room balcony. Lucky Luke clip-cloppingpast.
The Next Full Day (2) Day 3 Road tripping & clutch jerking experience 🤣
Renting a car in Zakynthos
We needed to explore this island and decided to find a rental car. Easier said than done in the end. We walked way too far out of town on the suggestion of an agency which seemed to be a family business with no real 'shop' so we missed it and got a good walk-in. We found it on the way back but it was empty and a telephone call revealed they had no cars! Shock- so we went back into Alykanas and rented from an agency there. It was all done relatively quickly and I couldn't tell you too much about the finer points though I did try and learn what the excess was etc...I was assured that small dings were no problem hmmmm...I went around the car with a video and missed the cracked light so hoped they wouldn't pin this on us. I would have loved a small automatic, but was told they are quite rare. I can drive but my partner kept joking that I could not as I did find it at times stalling a lot. Not sure I was finding first gear and trying to start in 3rd. So I think it was a combo of flip-flops and a woolly box. She had issues on occasion too. I ended up doing most of the driving.
The first trip was up north where the roads got steeper and more winding. I took responsability. We visited Xigia Beach but didn't stop as it was rammed and stopped at the next Makris Gialos Beach where we had some lunch up above, we got a climb up some steps and good views over the sea and a nice beach.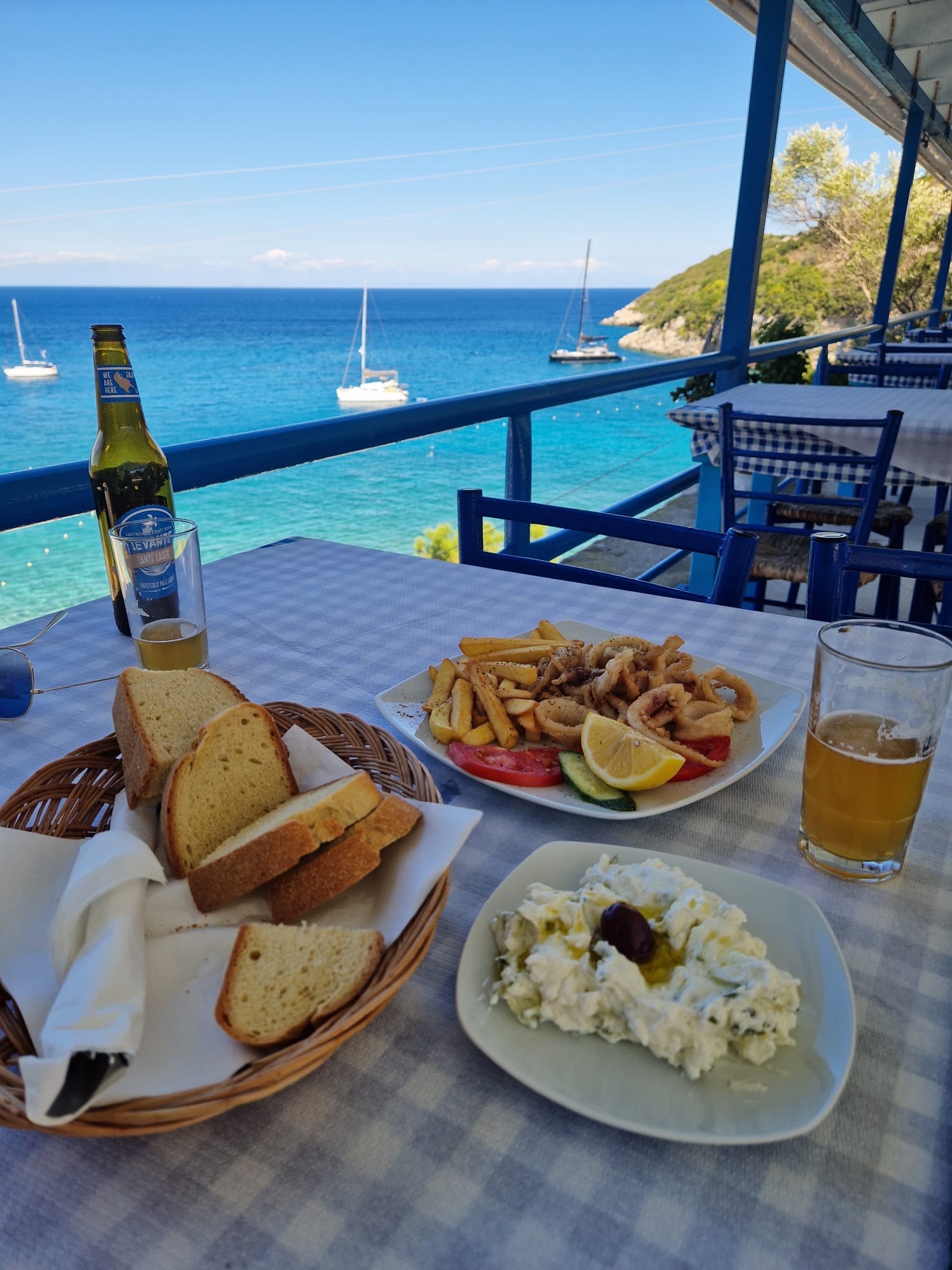 The bread was amazing and with tzatziki it was heavenly. A wasp was bothering Rachel. After we spoke to a lady in a tourist kiosk here and she said Don't park on the road as you can be unlucky and get a ticket. There is a parking place free I think near the restaurant away from the beach side. Markis Gialos Beach was also very busy.
Again crowded we decided not to stop. We pressed onwards as the roads got steeper and more winding. The car was going ok but I noticed the fuel drained rapidly on these hills needing a lower gear. 
Continuing further up we wound up winding down into Agios Nikolaos (Ferries to Kefalonia) it's not massive and we continued without stopping. There were more beaches before Agios it should be noted, we did not have time to visit all of them and didn't visit at all. Where were we heading? Not really anywhere specific with a goal perhaps to find the Blue Caves. Cape Skinari is the tip of Zakynthos but the Blue Caves are first not far. In the general area of the cape there is the windmill and steps down to a pontoon where you can enter the water. There is no beach just spectacular white cliffs. It's a nice spot to spend 2-3 hours maybe more if you include a boat trip to the Blue Caves. We did most of the steps down but I was bothered that we were nearly out of fuel and it ruined our stay a bit. I didn't want to get stranded late somewhere and where we were felt a little remote. Around the general area, there is Skinari Lighthouse and Potamitis Windmill. I think had the fuel not been an issue we might have had a swim if we were a little late for a boat trip.
Day 4 Banana Baya Zante
After Zakynthos town, we went south to Banana beach. 
Our lunch stop Banana Casa Playa next to Banana Baya
Banana Casa Playa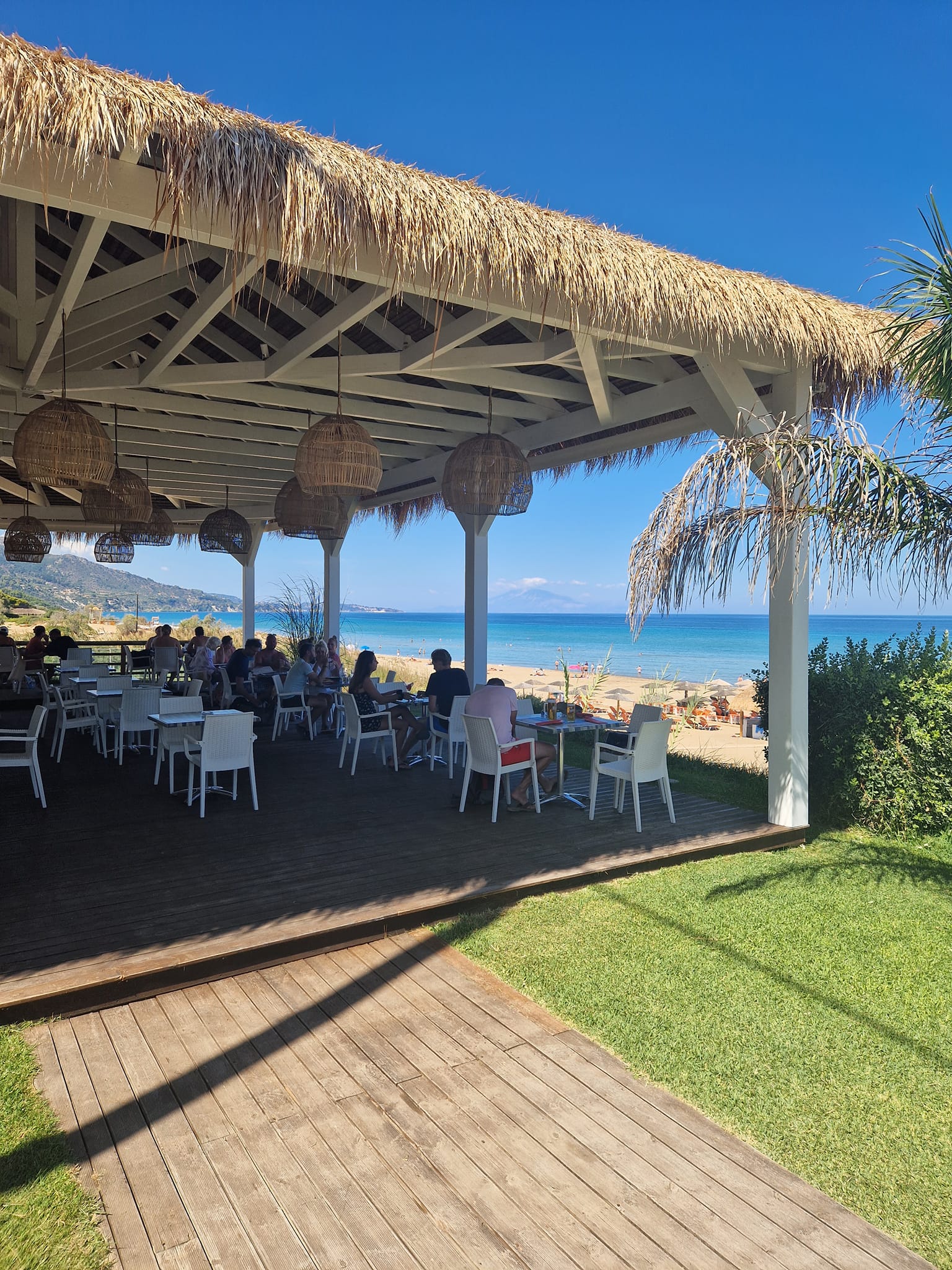 Day 5 Kalamaki Keri and Keri Caves
Kalamaki
,  the home of the turtles is unique in its own right & opposite turtle island, a fab stretch of sandy beach which joins up to the party place Laganas.  
Our little quaint Keri, not many tourists, roof-top restaurants with a picture-perfect idyllic setting, where we hired our own young skipper for 100 euro who took us to the wonderful Keri caves, not advised to hire your own boat unless you have experience! But a lifeguard/boat help is on hand if required but not good if you're stuck nowhere near him!
The water there is amazing, the caves too. 
I can see why families & couples go back repeatedly myself, it has everything you need from a European holiday with so many traditional things still going on, a beautiful island to explore without being too big, we learnt of some little beaches from that couple who had been going to zante the last 100 plus years ha! I think September is the perfect time for a couples holiday when children are back at school 
The Mill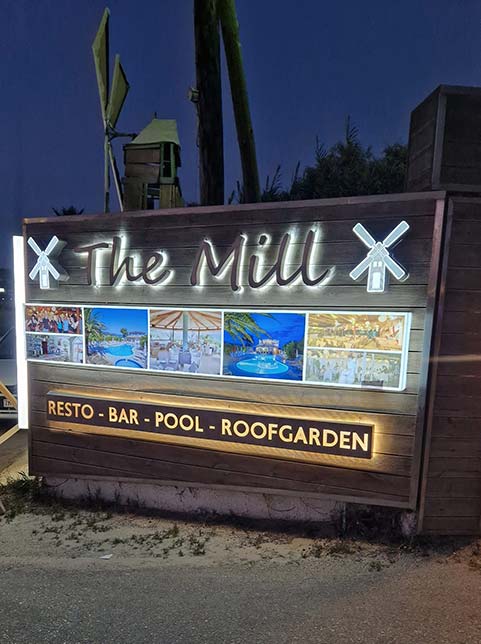 The beach is one of the best in Zakynthos and you will not dislike it.
Places to stay for couples in Zante
The Letsos Hotel
Olea All Suites
Kimiro Hotel Tsilivi
Some other holiday-style blogs on Zakynthos that I read and recommend
Other Greece blogs
Travel Author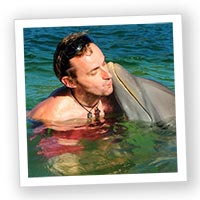 Calvin has been visiting Greece for many years and loved buying beers with Drachma and has a good amount of local knowledge of the island.
He hates leaving after any trip and has to console himself by writing and sharing articles and photos on it. You can find and connect with him on linked in here.

Likes
Travel, Gaming, Scuba Diving, Skiing and anything to do with water.

Dislikes
People who don't care, politicians doing nothing and needless competitivness- oh yes and being tired in an airport.