Notable Locations: National Park Old Providence McBean Lagoon and Crab Cay (Cayo Cangrejo)
The locals claim that Providencia's 32km long double barrier reef is the second largest in the Caribbean (after Belize's reef). But scuba diving is not the only reason to visit Colombia's Providencia Island.
This small island (population 5000) offers visitors a unique opportunity to experience a Caribbean Island that has changed little over the years. Before the rise of package tourism and mega resorts, the Caribbean was very different to how it is now.
Map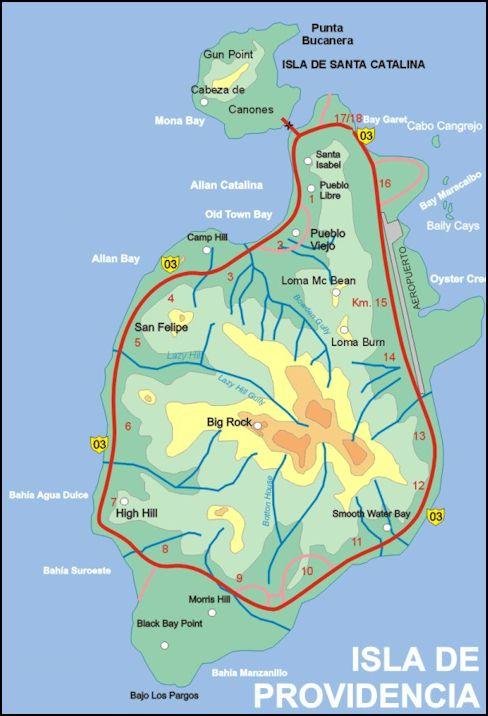 Providencia is one of the few islands in the region that has yet to see the overdevelopment that blights many other Caribbean Islands. The lack of development on this beautiful island means that the culture and traditions of the English speaking locals remain strong. It is Providencia's friendly people that are one of the real charms of the island.
Providencia's white sand beaches with their turquoise blue waters are also a major draw for visitors. Providencia's beaches are very undeveloped – many have no buildings on them at all. The island's most beautiful is Manzanillo beach, where the only development present are a couple of rustic beach bars. Visit in the low season and in all probability you might have hundreds of metres of pristine Caribbean beach all to yourself! Providencia's interior is mountainous and most of it covered in forest. There are many hiking and horseback riding routes through the island's eden-like interior, where waterfalls abound and the views towards the barrier reef can be quite astounding from the mountain peaks. Also gaining in popularity with visitors is fishing. Both in-shore artisanal fishing and offshore deep sea fishing can be arranged with local boatmen. The deep sea fishing is excellent year round, with tuna, wahoo, dorado and marlin in abundance at varying times of the year.
The charming locals, beautiful beaches and wonderful scenery are backed up by Providencia Islands real claim to fame – it's enormous barrier reef. UNESCO has declared the entire reef and many of the distant tiny Cayes further to the North as the Seaflower Biosphere Reserve in recognition of the area's outstanding marine biodiversity. Providencia's barrier reef and National Park (the McBean Lagoon National Park) is a breeding ground for much of the underwater wildlife of the Western Caribbean. The scuba diving is therefore excellent not only in terms of the abundance of fish and other marine wildlife, but also in terms of the dramatic underwater scenery. Another reason why scuba divers often turn into repeat visitors is that there are a huge variety of dive sites that are very easily accessible from the shoreline. Whilst many other Caribbean diving destinations require long boat journeys to reach the actual dive sites, Providencia Island has dozens of it's top dive sites a 10-15 minute boat journey from the shore.
Providencia island receives very few visitors in part because of it's very limited accommodation options. Most hotels are simple small posadas or small mid range hotels, most of which have no websites and can be hard to book in advance. Good news for the more discerning type of traveller is that very soon a new hotel will open – the 14 room luxury boutique hotel Deep Blue (hotel deep blue). This stylish hotel has stunning views towards the barrier reef and offers rooms from USD $130 per person, including breakfast, based upon two people sharing. Scuba diving packages can also be arranged.
Scuba Diving Providencia
Credits
Map and images http://www.providenciaespasion.com/eng/map.htm
Image Felviper