Chile Travel Guide
Chile is a very tall country and relatively narrow - it has some truly differentiating topography a geographers delight. It meets Argentina at the Antartic southern region.
Category: Chile
Hits: 1408
Like many other coastal cities of Chile, Vina del Mar too consists of two different parts. One part consists of winding houses and streets that cling to the hills precariously. The other part consist of buildings and streets that have been built by adhering to the colonial era grid plan and lie between the sea and the hills. Unofficially, Vina is known as the tourism capital of Chile, which occupies around 170 square km area and inhabits a population of 300,000. Some of the best travel destinations of this town are given below:
Cerro Castillo
Cerro Castillo has served as the Presidential summer residence since 1931. If you like, you can see the Museum of Maritime Culture, Castillo Wulff, which is located in this area. In this area there is one prominent beach of Chile and that is the Playa Caleta Abarca.

Quinta Vergara
Quinta Vergara is another very prominent place of Vina, where a tourist can find the main square of the city (Plaza Vergara), the municipal theater (Teatro Municipal) and the horse carriages (quaint Victorias). Some other tourist places in this area include: Vergara Amphitheater, Parque Quinta Vergara, Palacio Vergara and Mirasol, Los Marineros and Acapulco beaches.
City Center
It is in rectangular shape and is bounded in the north by Marga Marga Estuary and in the south by railway line. Once can find Plaza Jose Francisco Vergara to its east and wooded Castle Hill to the west.
Renaca
Renaca consists of a wide selection of shopping centers, discotheques, hotels, restaurants and beaches, which made it the focus point for various holiday activities.
Category: Chile
Hits: 1200
Santiago is the capital of Chile with over 5 million populations. It is situated almost 500 meters above the sea level and is probably the most modernized metropolitan city of Latin America. Most of its architecture is modern, as the colonial buildings are very few in numbers thanks to the frequent earthquakes here.

The transportation of Santiago is so fast that it would impress you in no time, while taking you every to corner of the city including the Greater Santiago. The transportation consists of 25 thousand cabs, hundreds of yellow mini-buses and the most impressive Santiago Metro that runs almost 90 km all around the city with more than hundred stations. Santiago Metro is the cheapest, fastest and not to mention the safest mode of transportation for city-dwellers and even for travellers.

When you are in Santiago, you won't need to worry about extreme temperatures, as this city is well surrounded by beautiful mountains and it boasts a Mediterranean climate. In fact, the entire city is situated within a valley. You would never face temperature above 35 degree Celsius (or 95 degree Fahrenheit) from December to March; you'd face a humid atmosphere with -2 to 13 degree centigrade temperature in winter (June – August), though. The coldest time of the day is Morning time here. City also witness snowing, approximately after every 10 years.
If you are in a mood to visit Santiago then you must see some amazing places here, which include: Plaza de Armas, Estación Central (Central station) and Parque Araucano of Los Condes. The last one is close to Parque Aracano Mall. If you are a food lover then you can taste some sea food and Chilean wine here, which are very popular among the city inhabitants.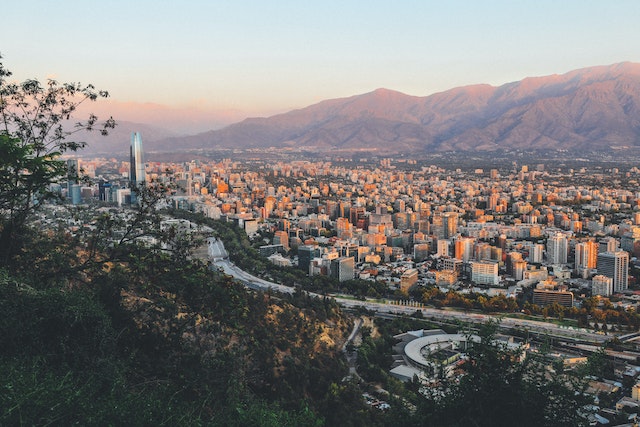 Category: Chile
Hits: 1558
With more than 5,000,000 inhabitants and a bit more than 500 meters above sea level, the capital of Chile is one of the most modern metropolitan areas in Latin America.