3 minutes reading time
(666 words)
Top 5 Activities For The Beach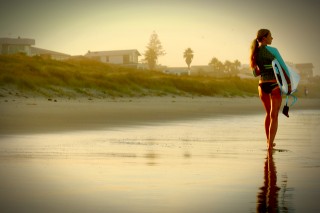 Beach vacations are a popular choice for many travelers. Hours spent on the soft white sand, with a book or beer in hand, trying your best to get and keep a golden tan. If you can't wait to spend your days parked on a sunlounger or you're looking for a little extra entertainment by the shore, there are some great activities to take part in at the beach. Luckily, New York travel company AllTheRooms is here to let you in on some of the best things to do water-side.
Ball games on the sand are not only great exercise, they're also great fun! Anything from volleyball, soccer, rugby or even handball are all excellent at getting everyone in the group up and moving. Ball games are also the perfect chance to make friends with other people on the beach -- just ask if they want to join and try not to get too competitive! Also, make sure you leave plenty of space around your game and other beachgoers. You don't want to be that group that disrupts everyone's fun with your own.
Beach vacations are the perfect time to finally get through all the books on your shelf you've been dying to start since you purchased them. Work, school and other responsibilities may get in the way of your reading back home but on vacation, you've got endless hours to get stuck into a good story. Every summer you'll find lists of book recommendations from bookshops, publishers, and magazines specifically for books best-suited to the beach. Whether you read spy novels, chick-lit or horror, you'll have ample chance to get up to date with the bestsellers.
Surfing paddleboarding boogie boarding
Beachside activities don't have to be limited to land. Given your proximity to the sea, dive in (literally) to some sea-based sports. If you're on the right type of beach, there may be schools where you can learn to surf or paddle board, as well as shops to rent or buy equipment for these activities. Just be safe whilst taking part in sea-based fun -- follow the rules of the beach and take note of any signs or flags, they're there to keep you safe and should not to be ignored.
Sandcastle building
It's an oldie but a goodie. Reminisce over your childhood or test out your architectural skills with some sandcastle building. Decide to make a classic single sandcastle or get a bit more technical and create a whole host of objects. If this is a little dull for you, why not make it more interesting and turn things into a competition? The one who builds the best sandcastle or builds it in the quickest time wins a prize -- we recommend making the prize a 'spade of glory'.
Travel board games are ideal to pass the time on the beach. Buy travel chess, snakes and ladders or backgammon before you leave for your trip, and because of their small size, strike up a game anywhere, at any time. Even on the journey to the beach, you can test your game skills and play in transit. If you fancy something a little more competitive, bring your own Twister, Scrabble or Monopoly boards, but be careful not to lose any key components in the sand.
And there you have it, these are some of the top activities to get involved in on the beach, ensuring your next beach vacation is a memorable one.
Sage Fitzpatrick is a travel blogger currently living in London. She can be found drinking tea, reading and traveling the world. When she's not traveling she spends her time blogging about her travels over at A Virtual Postcard.
By accepting you will be accessing a service provided by a third-party external to https://landed.at/