Santiago De Cuba was where Fidel Castro led his peoples revolutionary army to attack the Moncada Barracks.
There are many beautiful buildings that help make Santiago a worthwhile stop when backpacking in Cuba and it may also be a gateway for getting to the beach side destination that is fast becoming Cuba's best Backpacker paradise namely Baracoa. But visit the Cathedral and Fort in Santiago de Cuba at least.
Santiago De Cuba Location Map
Travel Author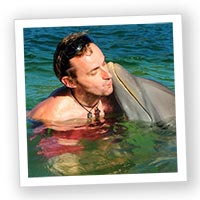 Calvin has loved the Caribbean since first visiting Roatan through loving Scuba Diving. From distinct cultures to common nature the Caribbean delights at every turn.
He hates leaving after any trip and has to console himself by writing and sharing articles and photos on it. You can find and connect with him on linked in here.

Likes
Travel, Gaming, Scuba Diving, Skiing and anything to do with water.

Dislikes
People who don't care, politicians doing nothing and needless competitiveness- oh yes and being tired in an airport.
---
You may also like
Guide to Old Havana -https://landed.at/caribbean/cuba/old-havana
Discovering the Enchantment of Santiago de Cuba
Santiago de Cuba, the second-largest city in Cuba, is a vibrant and spirited destination with a rich history that dates back centuries. Situated on the southeastern coast of the island, this captivating city is known for its unique Afro-Caribbean culture, lively music, and significant role in Cuba's revolutionary past.
A Cultural Melting Pot
Santiago de Cuba is a melting pot of cultures, blending Spanish, African, and French influences. This cultural fusion is evident in its music, dance, and cuisine. One of the city's highlights is the Casa de la Trova, a renowned music venue where talented musicians captivate audiences with traditional Cuban rhythms, including the famous Son Cubano.
For history buffs, El Morro Castle is a must-visit. Perched atop a hill overlooking the sea, this 17th-century fortress played a crucial role in defending the city against pirates and enemy invasions. Today, it offers panoramic views of the bay and the surrounding landscape.
Views from El Morro taken by tiago claro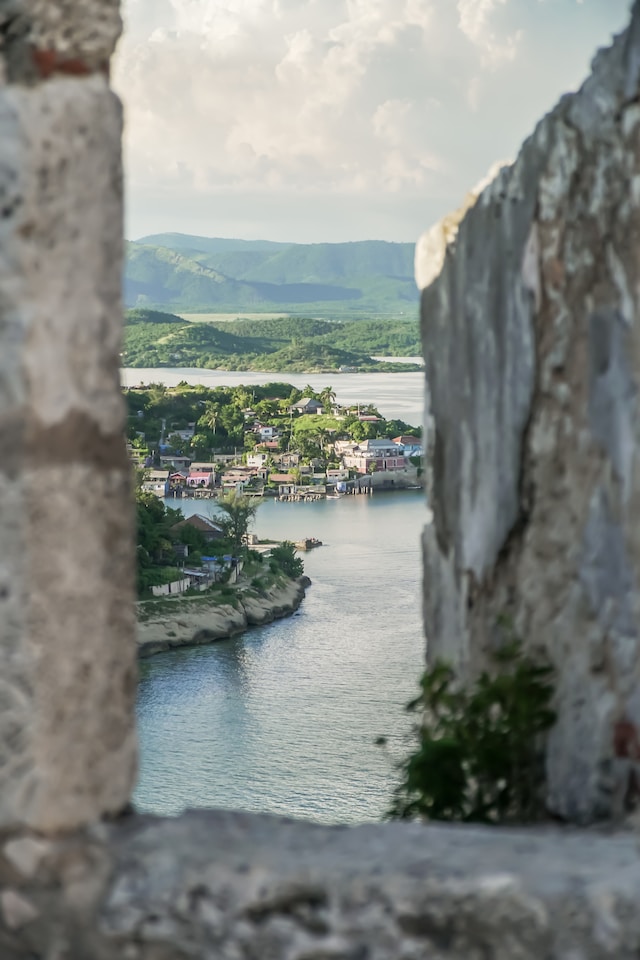 The Iconic Moncada Barracks
Another significant historical site in Santiago de Cuba is the Moncada Barracks. This former military facility gained notoriety on July 26, 1953, when Fidel Castro led an unsuccessful attack against the Batista regime, marking the beginning of the Cuban Revolution. The barracks now house a museum that showcases artifacts and exhibits related to the revolutionary movement.
Vibrant Carnivals and Festivals
Santiago de Cuba is known for hosting some of the most exuberant carnivals and festivals in Cuba. The Carnaval de Santiago de Cuba is a dazzling celebration of Afro-Cuban culture, featuring colorful parades, vibrant costumes, and lively music and dance performances that echo through the city's streets. The annual festival attracts visitors from all over the world, making it a perfect time to experience the city's contagious energy and festive spirit.
El Cobre and the Basilica
A short distance from Santiago de Cuba lies the charming town of El Cobre, home to the Basilica of Our Lady of Charity (Basilica del Cobre). This iconic religious site is an essential pilgrimage destination for many Cubans, as the statue of the Virgin Mary, known as La Virgen de la Caridad del Cobre, is considered the patroness of Cuba.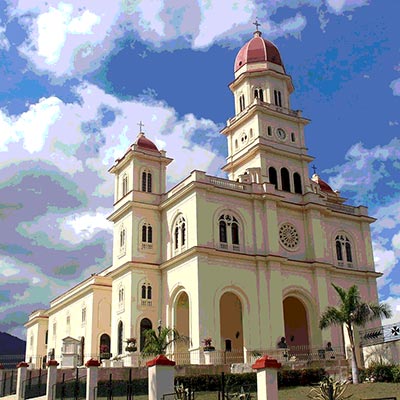 The basilica's picturesque setting amidst lush hills adds to its spiritual significance and tranquility.
Adventures in Nature
Surrounded by stunning natural landscapes, Santiago de Cuba offers excellent opportunities for outdoor adventures. The Turquino National Park beckons hiking enthusiasts to conquer Pico Turquino, the highest peak in Cuba. The trail leads through lush forests, providing glimpses of Cuba's diverse flora and fauna.
For a serene escape, head to Baconao Park, a UNESCO Biosphere Reserve, where you can explore coffee plantations, visit the Baconao Lake, and relax on pristine beaches like Playa Siboney.
Explore Santiago's Paladares
When it comes to culinary delights, Santiago de Cuba doesn't disappoint. The city boasts numerous paladares (privately owned restaurants) that serve up mouthwatering Cuban dishes with a unique regional twist. Don't miss trying the traditional dish, Congri, a delicious combination of black beans and rice, often served with succulent pork or chicken.
Embrace the Spirit of Santiago de Cuba
As you immerse yourself in Santiago de Cuba's vibrant culture, you'll find the warmth and hospitality of its people will leave a lasting impression. The city's rich history, pulsating music, and unique traditions create an enchanting atmosphere that captivates visitors.
Whether you're exploring historical landmarks, dancing to infectious beats, or savoring delectable Cuban cuisine, Santiago de Cuba promises an unforgettable journey that celebrates the island's spirit and resilience. Discover the magic of this alluring destination, and let its rhythm and charm sweep you off your feet.