Botswana Backpacking and Travel
Botswana
Botswana what to do? Famous for its Okavango Delta Tours. these tours are often accomodation and mokoro paddling, mokoros are canoes traditionally made out of wood these days not. Head to Maun as it is the main access point for these safari places.
Image: Tim Copeland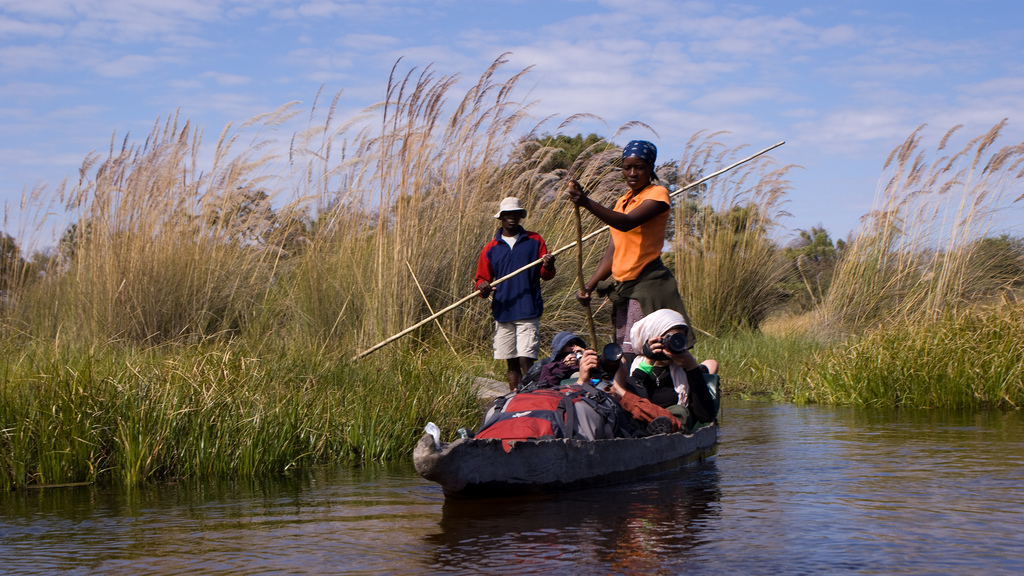 Botswana actually the Republic of Botswana is a landlocked country in Southern Africa.
The Kalahari Desert desert actually dries out the Okavango river , you can take canoe tours on the okavango. It is bordered by South Africa to the south and southeast, Namibia to the west and north, and Zimbabwe to the northeast. It meets Zambia at a single point.
Location Location Location
Compared to other counties in Africa, Botswana is quite the politically stable nation making it one of the best places for an African Safari. The best part? Almost half of Botswana's 581,000 square kilometers is designated as a national park.
Botswana is where you'll find the Okavango Delta, the only delta of its kind anywhere on the planet, and where you'll see lagoons smattered with exotic animals like giraffe and zebra.
The Chobe National Park is where you'll want to go to see the elephants; while the Chobe River is filled with territorial hippos. Amazing how Botswana's two million residents live so close to Africa's wild game.
Traversing across Botswana's Kgalagadi National Park, Kalahari Game Reserve or Kharma Rhino Sanctuary (even Botswana's capital of Gaborone has its own game reserve) isn't the only way to see Africa's Big 5. In this country you can do everything from mountain biking to sport fishing, to a hot-air balloon ride.
Try not to fly too far, you don't want to land in one of Botswana's neighbors (South Africa, Namibia, and Zambia) just yet; since you haven't tried any local dishes or libations. Ask your guide to get you some Morogo, a wild spinach; and make sure you ask the folks at your safari lodge to recommend one of the local beers or wine, like Bojalwa--a beer that's got the flavor of apple cider.
Don't drink? Try the Bush Tea--and don't worry about it keeping you awak at night, it's caffeine free.
It doesn't pay to be awake at night anyway, since driving at night is really not a good idea. It's a safety factor considering all the animals, not for any other reason.
You will need to take precautions in Botswana in terms of making sure your vaccinations are in order. While not as severe as other places in Africa, you should make sure you're protected from Hepatitus A, Typhoid, and Malaria, and make sure you've had a Tetanus booster in the last 10 years.
If you're not feeling good, you're not able to shop. And Botswana has some wonderful items locally made, like handcrafted jewelry (look for the ones made with ostrich eggs), and especially their baskets. Bush Man artwork is extraordinary, and makes a lovely gift for someone back home.
Best time to visit Botswana
When's the best time to explore Botswana? Anytime is the right time, but if you like it hot and humid then Summer's your best bet. Winter runs from May to August; and often the weather can drop below freezing in the overnight hours. Wear layers, and you'll be fine.
Come to think of it, even if you didn't wear anything at all--you'd still be fine in Botswana.