Only in Tanzania can you go from the savannah of the Serengeti to the highest peak in Africa of Mt. Kilimanjaro. Not to mention, just about everything in between.
While technically the home country to the uber-exotic Zanzibar, they're more autonomous--so for now, only think about the mainland Tanzania, which in itself has some 503 miles of coastline. Great beaches on top of it all.
The beach isn't why most people flock to Tanzania. No, it's to take game drives or a safari in places like the UNESCO Ngorongoro Crater, Selous Game Reserve, or Arusha National Park. A hot air balloon ride while a couple million wildebeest make their annual migration (November-March) is a sight to behold; and one you won't soon forget.
A game drive at the Tarangire National Park is the stuff of dreams. The elephants, zebras, and baobab trees are even wonderful than anything you've seen on the Discovery Channel.
Big game isn't regulated to just the savannah. Big game fishing is also done in Tanzania, so here's your chance to catch Marlin or Barracuda.
Bull fighting is also done here, but thankfully the animal is allowed to live at the end.
Best to take maybe a spice plantation tour if bull fighting isn't for you. Perhaps a trip to see the chimps at Lake Tanganyika.
Better yet, the Serengeti National Park that's got lions, gazelles, leopards, elephants, cheetah, and the rare white rhino. This is ultimate in a safari adventure.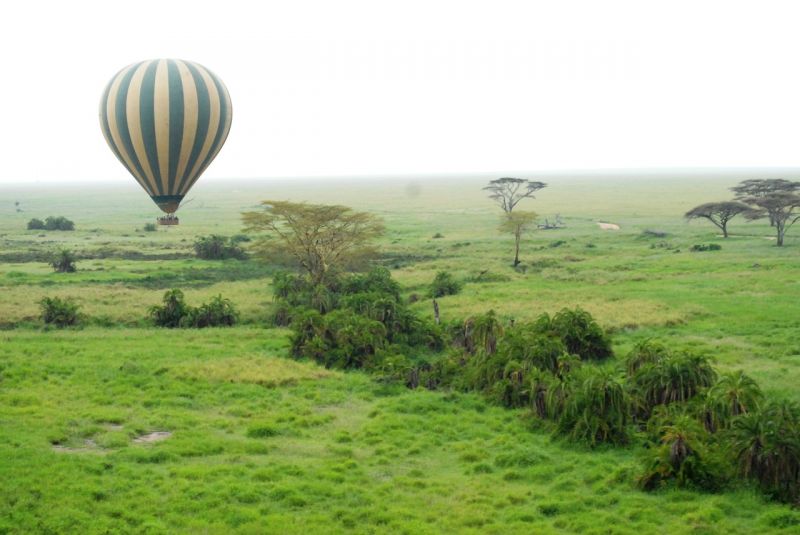 Getting around Tanzania is easy enough as there is a decent network of roads. Just avoid driving at night because of the animals--and remember to drive on the left.
Taxis are available at rail & bus stations, as well as airports. Train travel isn't the best option since cancellations due to equipment failure is frequent. A hydrofoil runs from Zanzibar to Dar es Salaam; and it'll only take about an hour & half.
Don't even think about being quick if you're gonna tackle Mt. Kilimanjaro. This massive snow capped mountain stands 19,341, and altitude sickness can kick in at a mere 3,000ft. Go slow to acclimate yourself, and once sickness has started--the only cure is to come right back down.
If you've made it all the way to the top, you'll be really far from Tanzania's markets selling African drums and wood carvings. The Maasi often sell beaded jewelry and sarongs, beautifully made gifts and souvenirs.
As if your memories of the exotic Tanzania weren't enough.