Zimbabwe Luxury Safari | Zimbabwe Backpacking and Travel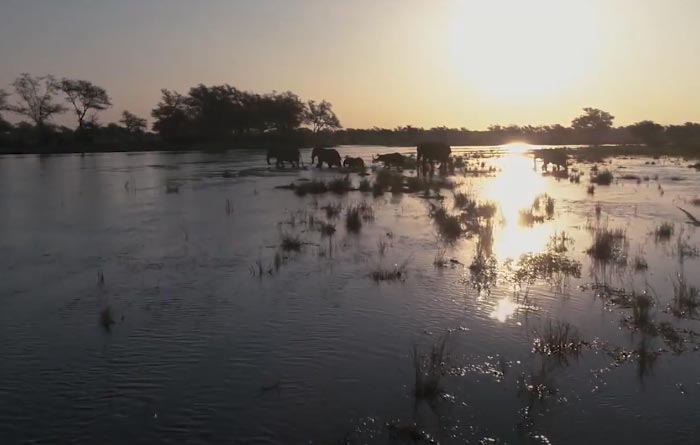 🇿🇼 Zimbabwe Flag
Zimbabwe is without a doubt the best African safari country on the continent. More than 10 percent of its 390,000 square kilometers is set aside as either a national park or wildlife reserve. Not to mention, the weather is pretty temperate thanks to its location in a higher altitude.
The excellent roads make it easy to get around, making game viewing quite simple. As if seeing elephant and rhino is an everyday occurance to most of the world.
An exciting way to see Zimbabwe is to take a 3 to 10 day canoeing safari. The best time is from April to November, when the weather isn't too hot or rainy. Just so you know, hot & dry season runs August to October, rainy season from November to March.
As much as trying to see the 40,000 elephants in the Hwange National Park is one of the best experiences of your life, so is trying some game meat like crocodile tail, warthog, or ostrich.
C'mon, be adventurous--you can always wash it down with most maize beer called Whawha. Shopping is big here, mostly for copper, wood carvings, and pottery. Outside the big cities you won't find much nightlife, mostly a few nightclubs and theaters.
Bigger than nightlife in Zimbabwe is golf. There are 40 golf clubs throughout the country--so practice your swing. And speaking of big, there's nothing much bigger than the ever fabulous Victoria Falls, which borders Zambia.
There are some smaller waterfalls in the Nyanga National Park, which is great for fishing. The fishing is good at Lake Kariba and along the Zambezi River too.
If history is what you're after, the city of Bulawayo is it. This city is home to the National Museum, Khami ruins, and ancient rock paintings.
When Zimbabwe is what you're after, make sure you've secured your passport and visa. For folks arriving from the USA and Australia (and a handful of other countries) can receive their visa upon arrival. Otherwise, check with the consulate before departing.
A few vaccinations are necessary, mostly for Tyhphoid, Hepititis A & B, and Tuberculosis. A Yellow Fever vaccination is only necessary if you're arriving from an infected area.
To stay safe during your stay, drink or brush your teeth with boiled or bottled water; and avoid swimming in any fresh water. Chlorinated pools are the exception to this.
Then again, with Zimbabwe's temperate weather--you might not have to cool off. All the better to do more game drives, or eat more warthog.
Location Map of Zimbabwe