Things to do in Uganda: Did you know that you can go fishing in the waters and there are seven lakes around Kisoro, which also offer duck shooting. There is a great opportunity for sport fishing at Murchison Falls National Park.
Trekking, there are some great opportunities from arid and wet lands alike popular hikes are to Karamoja, Central Circuit trail and the Sasa River Trail on Mount Elgon.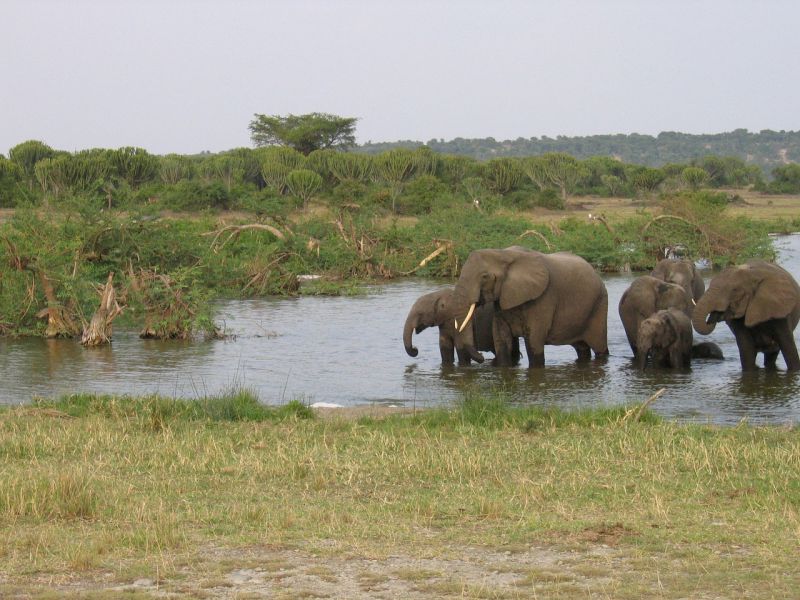 From Fort Portal, explore the Ruwenzori Mountains, the hot springs at Bundibugyo and the Semluke Wildlife Reserve
Adrenaline Junkie ? >> White-water rafting along the rapids of the White Nile

Of course Uganda is a popular Year Round Safari Destination.

Thanks to some high altitude, the country of Uganda experiences much cooler temperatures than its other Equatorial contemporaries, like the Sudan and Kenya.It makes it all the better to experience the wonder of it all.
The highest point in Uganda is Mt. Elgon, which happens to see some snow all year round. The wintery capped peaks don't stop Uganda from having beautiful botanical gardens, like the National Botanical Gardens in Entebbe. It must be Entebbe's tropical rainforest climate that helps grows these beauties.
The former capital city lies along famous Lake Victoria (with a lakeside beach, no less, just 23 miles from Uganda's new capital of Kampala. It's all about the history and culture here, with everything from churches to mosques, Kabaka Tombs and the Uganda Museum.
As with much of Africa, no trip is ever done without a safari of some sort. The Budongo Forest Resever, the Kasyoha Forest, and Murschison Falls National Park are the best to see many of the country's local wildlife. With 10 wildlife reserves and some seven sanctuaries, there's always a way to see the animals.
One original way to hit the rapids along the White Nile is also another way to see the hippos and crocs. And close to Jinja is the source of the eternal Nile River, which makes its way northward to Egypt.
Other exciting adventures await you here, try mountain trekking, fishing, shopping, and eating. Yes, eating can be an adventure, especially when fried crickets and Waragi (an alcoholic drink made from millet) are on the menu.
Shopping is another sport, so to speak. Get your bartering skills sharp to get the best deals on woven goods, pottery, and wood carvings.
All you need now is your passport, a visa, and a return ticket home. You'll also need an umbrella if you're going to be here during heavy rainy season between March and May, October and November.
Wet is wet, no matter language you speak. But, good thing English is the official language--so making your way around can be relatively easy. That is if you remember not to take any long-distance, overnight buses.
Other than that, getting around can be done by ferry, that'll take you to the Ssese Islands; or, grab a black & white taxi in most major towns.
Remember to take some bottled water with you, as local tap isn't safe to drink. Be sure you've gotten all your vaccinations before leaving home. Don't let anything stop you from experiencing the uber-fabulous Uganda.
Uganda Location Map