Cameroon
No where but Cameroon will you find every possible landscape and terrain in one place. Cameroon has everything from the peaks of volcanic mountains to tropical rainforests, and everything in between.
Located on the western coast of Africa, Cameroon lies along the Gulf of Guinea, bordering five countries (Chad, Central African Republic, Gabon, Nigeria, and the Congo); and has a population of just under 19 million residents spread out over almost a half-million square kilometers.
CAMEROON LOCATION MAP
First things first. You're going to need not only a passport, but a visa and return ticket if you're to travel to Cameroon. And as with many African nations, you'll need to make sure you've got your immunizations against Hepatitus A, Yellow Fever, Tetanus, and Malaria are all in order.
Plantain Yam and Vegetable Market Cameroon by SarahTz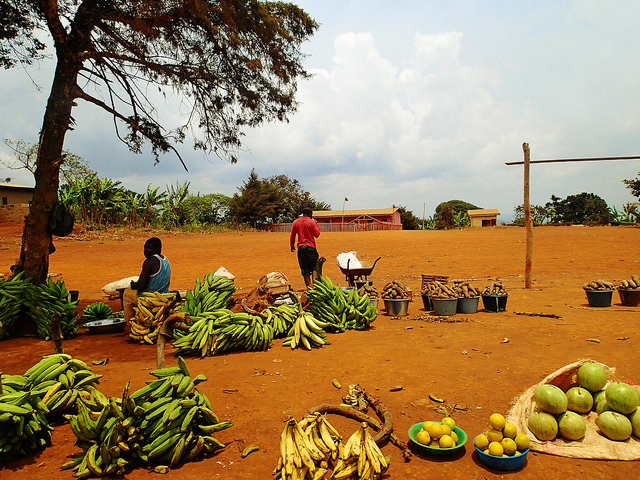 Don't worry about not being able to speak the language, since both English and French are widely spoken. It's OK if you don't, food trancends any language barrier--so why not try some local cuisine like West African Peanut Soup served with some local Palm Wine.
If you're a vegetarian you might have a bit of a time finding something to eat, but you can't go wrong with all the fruit, veggies, and rice dishes. Shopping after lunch is always a fun activity, so set you sights on all the beautiful beadwork that Cameroon is known for. Or, buy yourself some brightly colored fabic that's popular.
Looking for something with more of an adrenaline kick? Cameroon delivers with exciting rock climbing, or the ultimate climb to Mt. Cameroon at 13,434ft. Hiking through the tropical rainforest (found around Cameroon's coastal region), or along Cameroon's volcanic peaks (with a bamboo forest, no less) is also for wonderful for anyone with an adventurous side.
Want a safari? You can do that too. The Benoue National Park is famous for its crocs, giraffes, lions, and hippos. The Waza National Park is great for bird watchers as they've got everything from eagles to pelicans, ducks to cranes. The elephants, antelope, and lions are an extra added bonus.
Like to know more about different cultures? Try visiting the region of the BaAka Pygmies, where you'll learn about their culture, hunting practices, and even their dancing. You can't do all this and not have a place to stay. There are a number of choices of accommodations in Cameroon, ranging from popular international chains to the most basic of hotels, and even camping.
Cameroon Football
A certain Roger Miller put the national team on the world cup map in 1990 (aged 38!) with a tremendous display of skill and power. It started Africa football on the way or rather highlighted the continents style and powerful play, you can see some in this video.
There are choices for getting around in Cameroon. While the rail service isn't up to par as in some western countries, it is possible to travel by train. And you can pick up a number of cargo boats that'll bring you to Cameroon from other points in Africa. Flying is a good option with flights available to Yaoundé, Cameroon's capital city, on airlines like Air France.
Whatever way you've chosen to get to Cameroon, what activity you've chosen to do in Cameroon, and which region you've chosen to see in Cameroon--you'll love it.