Cambodia Tours and Backpacking
Things to do in Cambodia : take an elephant ride in Rattanakiri and Mondulkiri, if you happen to be around the capital Phnom Penh in October November then wait for the water festival where hundreds or boats and paddlers launch into the Tonle Sap as the direction of its flow changes. Catch a Cambodian Apsara dance in Siem Reap, probably the best place for this. More water antics in Kratie, as you can go fresh water dolphin spotting. Cool off in Yak Lom lake near Banlung town in Rattanakiri province and take a picnic. If your into machsmo then fire a grenade launcher or M-16 in Phnom Penh. There aren't many other places in the world that would let you near such lethal weaponry. A serious reminder of the troubles Cambodia's been through. And reminders of the mined areas in cambodia abound as maimed PEOPLE get around with difficulty. Watch your step !

Get some underdeveloped beach time in at Sihanoukville ! Visit the amazing temples like Angkor Wat..
The Kingdom of Cambodia formerly known as Kampuchea, is a country in Southeast Asia that borders Thailand to the west and northwest, Laos to the north and Vietnam to the east and southeast. In the south it faces the Gulf of Thailand.
Cambodia truly is a backpacker's delight, you only need to keep a few things in mind before you've arrived. Getting around can be a test of patience, as many roads aren't paved throughout the 181,000 square kilometers. Come monsoon season (May/November) they often flood, which is why Dry Season is the most popular time to come.
Don't worry if you don't speak Khmer, the country's official language since Chinese, Vietnamese, French, and English are spoken all over.
It'll sure make haggling for all sorts of goodies at the local markets go smoother. You'll certainly want to leave room in your bag for statues, textiles, and Kramas--a scarf that's famously made here.
Wear one while you're out on the town, as cities like Siem Reap and Phnom Penh (the country's capital city) who are awash in restaurants and bars (including "adult" kinds). If you want a casino, you'll have to head to the beachside town of Sihanoukville.
Sihanoukville, by the way, is a SCUBA diver's paradise--and even if you can't dive, snorkeling and sunbathing can be done too.
Kampot is also for beach lovers, but is more famous for its Elephant Mountains. However, nothing in Cambodia is more famous for its UNESCO 12th century Ankor Wat, full of pagodas. There's a National Museum here that'll detail much of this revered site.
FYI--please remember to cover your shoulders, and not wear shorts to any of Cambodia's religious sites. And don't take photos of monks without permission.
One of the most amazing sites in Phnom Pehn is when the Tonle Sap River changes direction in November. The Bon Om Thook Festival is a super fun event that celebrates this unique natural event.
So if you've decided that Cambodia's your kind of place, just get your passport in order. Most of the time, and for most foreign citizens, a visa can be obtained upon arrival. Just be sure to check with the consulate before leaving home.
You should have your vaccinations in order before leaving, as well. From May to December the risk of Japanese Encephalitis is possible for anyone traveling to the Highlands of Cambodia for more than a few weeks. And Dengue Fever and Cholera are also a possibility--it is best to purchase health insurance for your trip.
Also remember to make sure anything you've eaten is fully cooked, including veggies; and fruits are peeled. Some rice noodles purchased from street vendors tastes delicous, and Prahok (fish paste) is often used to flavor many Cambodian dishes. Wash it all down with some coconut juice or rice wine.
Don't let the risks turn you off, this is a vibrant and proud country of some 14 million people that'll totally welcome you with open arms.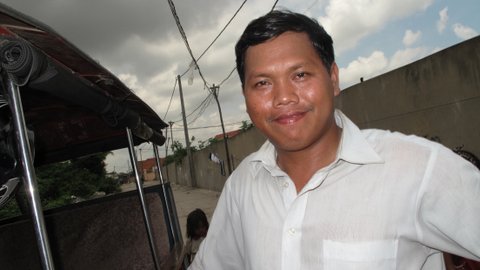 Written by:

Administrator

Category: Cambodia
Hits: 1735
It was a time dilemma: I had to get assignments marked and back to a university in Australia, but also had to organize a visa run. In Cambodia one can get extensions almost forever, but my passport had expired and been replaced so a fresh stamp was required. What to do, what to do? Tuk-tuk driver to the rescue.
"Nick can you come to my apartment, pick up my passport and arrange a boat ticket to Chao Doc on Friday for me?"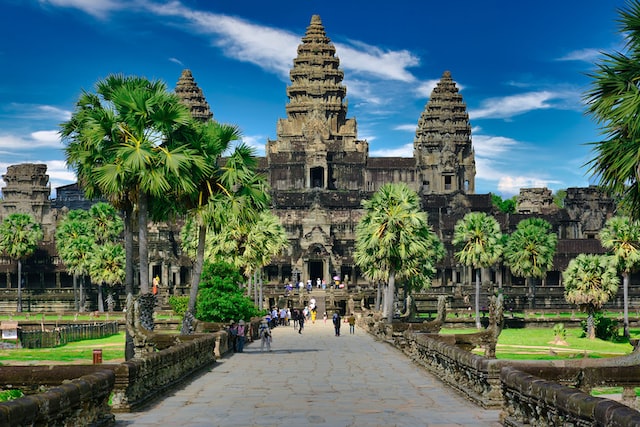 Written by:

Cal

Category: Cambodia
Hits: 2067
Backpacking in Cambodia might be a challenge to some, but it offers an economical way to see the countryside and even enjoy a beachside destination.