Japan Travel
Flag of japan 🇯🇵
What to do in Japan : Climb Mount Fuji, Marvel at how every 30 minutes something weird and wonderful appears, Appreciate the Shink - Shinkanson or bullet train and use it to get around. Japan Tip : Buy a rail pass before entering Japan. Visit the magnificent Temples of Kyoto, take in a tea ceremony, Get some powder in Niseko skiing or snowboarding. Enjoy some of the finest dining experiences in the world. Visit the worlds biggest Fish Market in Tokyo, wonder at the neon lighting in Tokyo...
Location Map
A trip to Japan will go a bit smoother if you're aware of a few things before arriving. The Japanese are a very polite society and table manners matter; and often yes doesn't always mean a firm yes. Confusing? Sure, but it should never stop you from basking in the glory of Mt. Fuji, or cheering for your favorite Sumo wrestler.
Japan can be exciting, as well as daunting since its so exotic. It might not feel like while soaking at the onsen, which are hot springs, or as you notice the little nuances of ritual tea ceremony.
Almost three-quarters of Japan is covered by mountains or hills, and many of its volcanoes are still active or only dormant (not quite the same thing as extinct). Luckily the country experiences four distinct seasons, making Spring and Fall the most temperate time to come. It can get very cold in the Hokkaido region, and typhoons mostly hit between August and September.
Typhoons, hot weather, and snow doesn't stop Japan from having a vibrant nightlife. You'll find all sorts of cultural events going on, like the Cherry Blossom Parties (April & May) and the Sapporo Snow Festival (Feb), to theater and beer gardens, pubs to opera & ballet.
Just be wary of so-called "hostess service" bars, where you're expected to pay for drinks for "company"; a needless expense.
You'll want to save your Yen for things like visiting the 1000-year old, Buddhist Sensoji Temple, or the 17th century Himeji Castle. One trek that you should take is the ancient pilgrimage route of Kumano Kodo filled with waterfalls, hot springs (onsen), and forest.
Getting around the route, or anywhere else for that matter, is easy in Japan since there's an extensive network of bus and rail routes. While not best to drive on your own, the train or long-distance bus route gives you a chance to see the best of Japan's 377,000 square kilometers.
Ferries link four of Japan's main islands, and some service even goes out to the more remote areas of the country. And Japa is serviced by Japan's official airline, as well as many other international carriers--making Tokyo (its capital city) and beyond,easy to get to from all over North America, Europe, Africa, and the rest of Asia.
Who says Japan is daunting? It's easy to get to, easy to get around, and all around easy to love.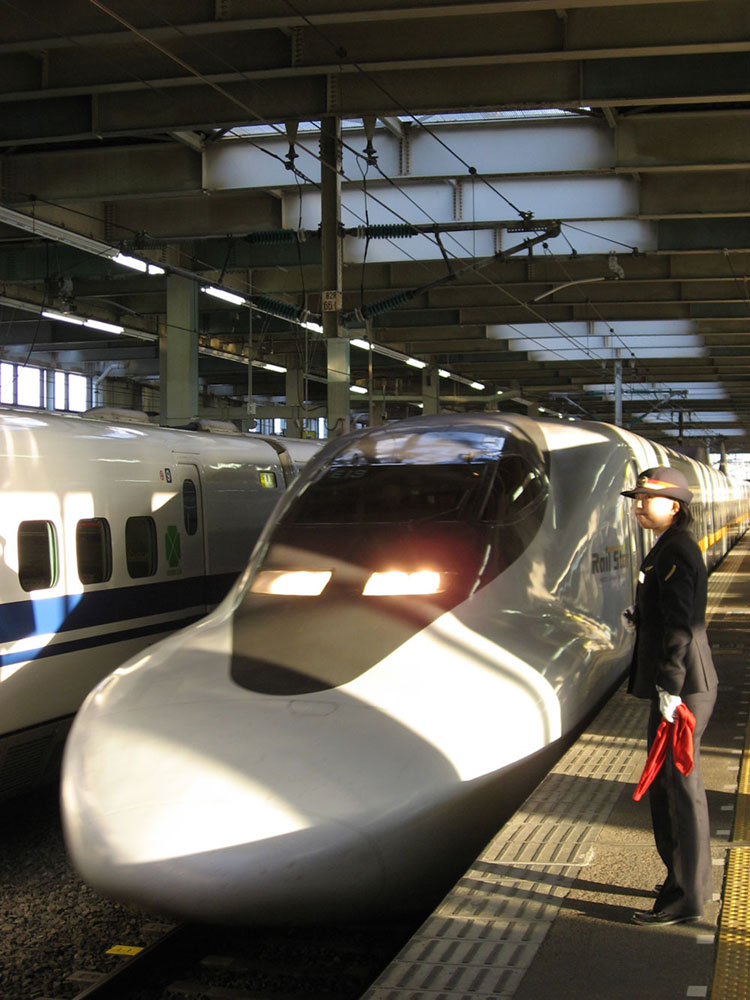 Written by:

calvin

Category: Japan
Hits: 2996
You must purchase your Japan Rail Pass (In fact you will buy an exchange order)
before arrival in Japan and you must have temporary visitor status!

Notice- there are now temporarily testing selling the japan rail pass inside Japan at selected stores check the links below.

You can slice through Japan at 270 kmph as you relax in style aboard the Shinkanson (bullet train).
Hitting Osaka from Tokyo in about 3 hours while admiring the diverse landscape that is Japan.
You will have space for your luggage and leg room you can only dream about on an aeroplane.
This is comfort this is Japan.

If you plan on visiting outside of Tokyo this is almost a must have as you will start to save money very quickly.
You can get passes of 1,2 or 3 weeks duration.
Read more: Japan Rail Pass Guide - Some Handy Tips for Your Travel